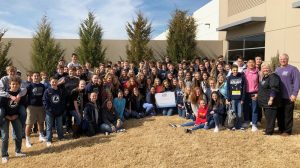 The entire freshman class at Liberty Christian School near Argyle prepared and packed 50,000 meals for hungry kids earlier this month.
Food for the Soul, a Flower Mound-based nonprofit, aims to feed hungry children in the Dallas-Fort Worth area through a backpack program for kids and pregame meal project for athletes.
Liberty Christian Bible teacher and coach Katie Gober learned of an opportunity to help Food for the Soul, according to a Liberty news release. On Feb. 2, she took more than 100 Liberty students – the entire freshman class – to help out.
"I was so thrilled to take the freshman class there last week," Gober said. "I am so proud of their willing hearts that desired to bless this ministry. This group of freshmen is really special!"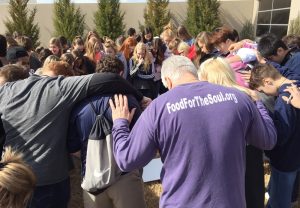 Gober recently learned that Food for the Soul's greatest need included feeding 166 students from an Arlington school who spent each weekend hungry. She reached out to the parents of her students, and they provided, the news release said.
"The parents at our school made this happen," Gober said. "I am humbled by their generosity and willingness to serve the Lord in feeding these precious children."
Kimberly Sawler at Food for the Soul said she delivered the food to children the following day.
"Students at this Arlington school will eat this weekend because of the love and care of the Liberty Christian School family," Sawler said, thanking those who helped the nonprofit.
Click here for more information about Food for the Soul.