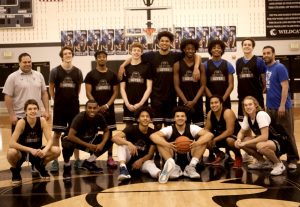 Being named as the top high school basketball team in Texas is impressive.
However, on Jan. 20, the Denton Guyer boy's Wildcat basketball team was named as the number one spot on the Max Preps High School national rankings.
Guyer is 33-1 heading into the final game of the regular season and showing no signs of slowing down.
"With the talent level we had coming back, I knew we had a chance to do special things," Coach Grant Long said. "The greatest thing about this team is they are mixing in hard work with that talent."
The Wildcats only loss of the season by two points came on Dec. 30 to Waxahachie; ranked sixth nationally.
Guyer has won its first 13 district games by more than 23 points per game. Long said he believes a number of factors have allowed the Wildcats to compete at such a high level this season.
"I attribute our success to our belief in our program's core values, which are trust, compete, togetherness, focus and toughness," Long said. "When we share the basketball and give all-out effort on defense, we are hard to stop."
Georgetown University commitment Grayson Carter has averaged 14 points and 6 rebounds per game this season, saying that while the Wildcats have some incredibly talented players, he believes the team chemistry has a lot to do with what makes Guyer such a tough nut to crack.
"We are a family," Carter said. "We play for each other on both ends of the floor and support each other on and off the court. Yes, we have some high major division-one athletes, but we are truly special because we believe in everyone."
Guyer has a core of seniors who have helped lead the way for the country's best high school team in 2017-18. Senior guard Le'tre Darthard said the top ranking among high school teams is not something he and his teammates think that much about.
"We are proud of our accomplishments, but feel like rankings are more for other people outside of our team," Darthard said. "We know if we take care of what we are supposed to do on the court, the rankings will take care of themselves."
Coach Long said it is an honor to be ranked number one in the country, but added that it really only counts if his team is still there at the end of the season.
"It is great recognition for Guyer and the basketball program, however it won't mean anything if we don't continue to be great every day at practice and in games," Long said. "We have a long way to go to reach our goals; and, we know it's about your ranking at the end of the year."
Senior guard Chris Craig said that there is a more immediate goal for the Wildcats this season anyway.
"To bring home a state title would mean the world to us and it's what we are striving for," Craig said. "We have put in the hard work and want to win it all for each other. It's something we would never forget."
With all of the hard work and dedication the Guyer boys basketball team has exhibited throughout the season, senior guard Brandon Bird said the team is not without its rituals, as well.
"We have team dinners," Bird said. "We have Guy Earl, our team Chaplain deliver a message for us. We have our pregame team warm up, coach speaks to us, then Kaedric Cobbs leads us in prayer."
The Wildcats have had numerous other contributors as well.
Jalen Wilson has averaged 17 points and 6.4 rebounds per game this season, De'Vion Harmon is averaging 16 points and 3 rebounds per game and JaKobe Coles is averaging 13 points and 7 rebounds per game for the Guyer this season.
Long said his players believe in themselves and with the amount of talent he has on this year's squad, he believes Guyer is capable of accomplishing great things.
"I feel like this team can compete with anyone in the country," Long said. "And there is no limit to what we can do."