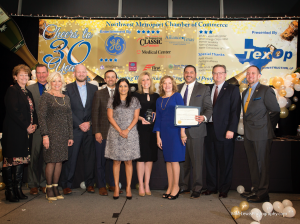 At the 2018 Northwest Metroport Chamber of Commerce Gala last week, the Northwest ISD Education Foundation was selected by other business professionals in the area as the "nonprofit of choice," naming the organization the "Heart of the Region," according to a Northwest ISD news release.
Northwest ISD serves a large part of the area northwest of Fort Worth, including Northlake and part of the Harvest community in southern Denton County. The Metroport Chamber serves much of the same area, including Argyle and Northlake.
"This award could not have come at a better time, and we are so grateful," said NEF Board President Clint Abernathy in a prepared statement. "This board and staff are passionate about working with businesses across this region to educate donors about our mission to fundraise for innovative, original ideas that Northwest ISD teachers want to bring to their students simply because these funds are not in their current budget."
NEF's mission is to provide financial support to empower NISD educators, engage the community and encourage future-ready students.
"It's our vision to be a recognized leader in providing financial support to teachers and students in the region that Northwest ISD serves," said Executive Director Emily Conklin in a prepared statement. "Currently, the NEF board has been reorganizing and reviewing its mission, vision and strategic goals to expand the impact we are making across the school district's 234-square miles, while planning for future successes."
Since its inception in 1999, NEF has provided more than $2 million for teachers and students. The funds are used to facilitate student achievement and skill development, to recognize and encourage staff excellence and to expand community involvement from individuals, businesses and civic organizations, according to the news release.
On Feb. 2, NEF presented 33 innovative teaching grants totaling $88,000 to 17 campuses.
"I truly believe the programs and materials these grants will provide will have a powerful impact on students at Seven Hills Elementary now and in the future," said Seven Hills Elementary Librarian Melissa Quisenberry, a recipient of three Education Foundation grants. "I am thankful for the grant process and to have partners in providing meaningful opportunities for my students."