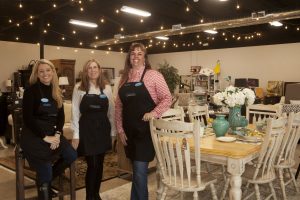 Located just north of Liberty Christian School on Highway 377 is a new business unlike any other in Argyle.
Divine Finds Upscale Resale is a faith-based store that supports the two Pregnancy Help 4 U centers founded by Kayla Schroeder. Other benefactors are the Buyamba Orphanage in Uganda, SOS International and Justice 61 Rescue Mission.
The store features high quality, name brand furniture, adult and youth clothing, home goods, handbags, children's toys and shoes.
"We're one of the first retail clothing stores here in Argyle," said Schroeder, who opened her first pregnancy center in Keller in 2011. "This is a perfect spot. We are very different from other resale shops. We're just a fresh way of doing resale and want it very upscale."
After outgrowing her original building, Schroeder added another just down the street in 2013, a second pregnancy center in North Richland Hills in 2015 and now the store which opened Dec. 9. It has allowed her to combine her degree in fashion merchandising and previous experience in pregnancy centers in Fort Worth and Grapevine. And it provides a new regular funding source to continue providing free services without judgement or discrimination of any kind to the public.
"Our tagline is 'Purchase with a Purpose' and that's what people do," Schroeder said. "They feel so good about it.
"After praying and searching extensively all over the Metroplex, God gave us this exact place and has provided everything we need to get it started."
The Amon Carter Foundation and an anonymous donor helped provide the funds needed to build and open the store.
Schroeder, Store Manager Casree Holland, and PH4U Board Chairman Ashley McWhorter who also was instrumental in the store's opening, were pleasantly surprised with the initial response of more than $12,000 in merchandise sold in the first week. That will help the pregnancy centers continue focusing on medical treatments including pregnancy and STD tests and sonograms plus counseling with the goal of eliminating abortions. They served 3,272 clients ages 15-24 including 821 abortion vulnerable and abortion-minded women whose babies were saved in 2017.
"My passion for this never burns out. I've been doing this now for over 13 years," said Schroeder, who had an unplanned pregnancy at age 17 at a time when today's education wasn't available. "I wanted a place to help other girls make more informed choices."
Schroeder opened her first pregnancy center with the financial help of Cross Timbers Church whose lead pastor Toby Slough previously led Southlake Boulevard Church where Schroeder had worked. Today, she works with 13 churches.
Divine Finds Upscale Retail is open seven days a week. For more information call 469-744-7819 or visit lifeguards.pregnancyhelp4u.org/divine-finds.