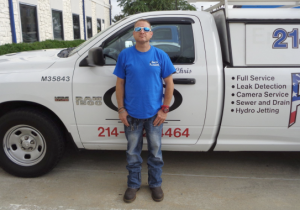 The plumber who was killed Thursday while working underneath a Flower Mound home was a good father, husband and leader, according to his employer.
Chris Corbet was working at a house in the 6300 block of Eagle Creek Drive, located in a residential area near Justin and Morriss roads, when the soil collapsed on him under the foundation slab around 3:30 p.m. Thursday, said Brandon Barth, a Flower Mound Fire Department spokesman.
Responding firefighters responded and were unable to get to the victim, so they called technical teams from the cities of Coppell and Denton. It took about an hour for those teams to arrive and get to Corbet, who was found dead, Barth said.
Corbet's employer, Enco Plumbing Owner Eric Neal, has identified Corbet and released a statement about the man.
"Today Enco Plumbing and its men and women lost an employee, much more than an employee, he was a good family man, a good coworker and like a son to me. He was an upbeat young man that was very much into his work, very professional and has been practicing plumbing and was licensed by the state of Texas as a Journeyman plumber. His skill set in plumbing was very high and he was very knowledgeable. He was a very good employee and leader.  He spoke a lot of his children and his wife. He always looked forward to completing his tasks and getting home to see them. We have lost so much today I would not know where to start. Not only is this the saddest day of Enco plumbing, but it's the saddest day of my life. The world has lost a very good human being. May all the prayers help with this loss."
A GoFundMe fundraiser has been set up for Corbet's family. More than $5,700 was raised in just two hours on Friday.
Barth said Friday that he couldn't say definitively what caused the soil to collapse.