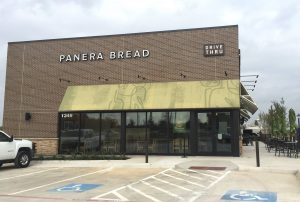 Just five years ago, residents of Argyle, west Flower Mound, Northlake and unincorporated Denton County had few options for nearby fast food and fast casual restaurants. Many would drive to north to Denton or east to Highland Village or Flower Mound for a quick bite.
Today, they can head south for quite a few new options in Roanoke, which is maintaining a healthy balance of unique destination restaurants in its downtown while adding quicker chain restaurants near its busiest highways.
Along Hwy 377 in north Roanoke, lots of fast food and fast casual eateries began popping up a few years ago. Now, the busy highway is lined with stand-alone drive-through restaurants, including Chick-fil-A, Dairy Queen, Popeyes, Krispy Kreme and more. The two newest ones are Jason's Deli and Panera Bread, and a Sunny Street Cafe is under construction, bringing a growing variety of chain restaurants available to residents in and around Roanoke.
That area of Hwy 377, near the Hwy 114 interchange, "has become a thriving retail destination with numerous casual dining options that make this area attractive to the 50,000 plus patrons that travel this area daily," said Cody Petree, Roanoke's director of community and business development.
Roanoke, named "The Unique Dining Capital of Texas" in 2009 by the Texas House of Representatives, still strives to maintain its "eclectic, small town charm with smart selective growth," Petree said. Several new restaurants have opened recently in its downtown area, including Craft & Vine Taproom & Eatery, Foster's Sushi/Seafood Bar & Grill, and Wise Guys Pizzeria. Several more are under construction, including Chop Shop Live, STACKS Biscuit House and The Wharf Steak and Seafood.
"The city of Roanoke has over 50 restaurants currently and our plan is to continue to expand while obtaining additional viable, sustainable development," Petree said, adding that more potential restaurants are currently in negotiations to open new eateries in the city, and they "will add to the unique, vibrant destination Roanoke has become."
Roanoke isn't the only nearby home of several new fast restaurants. On Hwy 114, just west of Interstate 35W, a Whataburger and Chick-fil-A opened earlier this year in front of the new Tanger Outlets Mall. Several more restaurants, including Buffalo Wild Wings, Panda Express and Starbucks, are coming soon.