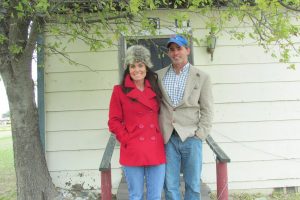 Argyle resident Michele Wetteland– mother of five and author of children's books– read the manuscript for a book of holiday memories written by high school classmate, Rigel Kent; and, began thinking how to bring the story to life.
On the day before Thanksgiving, Nov. 22, Wetteland and now-fiancé Kent will reveal her vision to open an actual farm-fresh Christmas tree lot on vacant land adjacent to Johnny Joe's Gas Station on Hwy 377 in Argyle.
The tree lot is inspired by "The Christmas Night Dash from Marshmallow Mountain" based on Kent's childhood memories.
In the story, no Christmas trees will grow anywhere in the world, until a stranger comes along to change that. Wetteland hopes to re-create that magic in Argyle.
"It will be a festive, beautiful spot for families to come enjoy; even if they aren't looking for a Christmas tree," Wetteland said. "They can leave with a happy memory [even] if they don't leave with anything else."
However, finding 400 trees for the lot proved harder than Wetteland planned. When she called traditional tree farms in the Pacific Northwest, she learned of a nationwide Christmas tree shortage. She finally found a farmer in Michigan, which she said was her own Christmas miracle.
"I'm a mother of five [ages 15-26], so I know the importance of precious moments we make with friends and family. These are the gifts that last," said Wetteland, whose books centered on three of her children including one story relating to Christmas.
"I live in Argyle and wanted to do something that went hand-in-hand with the ideas and inspiration of his [Kent's] book. I wanted to provide a venue in the community; the gift of a place where people can take engagement photos, holiday photos and create treasured memories."
Trees will only be part of the landscape Wetteland has planned. The space– owned by local restauranteur Sparky Pearson and Johnny Joe's owner Raihan Chowdhury — will also feature a movie set-like front Yuletide Town, a Christmastide Cinema showing holiday classics, Little Tyke cars, Adirondack chairs, plus fresh wreaths and garland, T-shirts and more.
Marshmallow Mountain Christmas Trees also will collect coats and blankets to distribute nightly to the homeless.
Kent will autograph copies of his paperback at the lot, which will be open every day from 10 a.m. until 8 p.m. through Dec. 22.
For more information, visit them here, or their @marshmallowMTNchristmastrees Instagram site or find them on Facebook at MarshmallowMountainChristmasTrees.