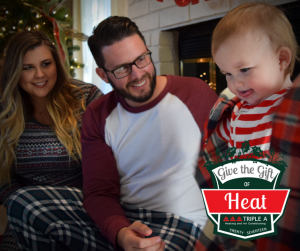 A local company wants to give a deserving family in the area the "gift of heat" this season.
Triple A Heating and Air Conditioning recently learned about other contractors' "Gift of Heat" programs, where they find a deserving local family and fix or replace their furnace, and Triple A owner Keith Neff said it sounded like a great idea.
"We're always looking for ways we can give back," Neff said.
But while this is technically the company's first year doing the "Gift of Heat" program, it's not a new concept, said Dustin Neff, Keith's son and Triple A's general manager.
"I remember growing up, he (Keith) was always willing to go the extra mile and help fix a friend's furnace when their family was going through a tough time," Dustin Neff said.
Triple A is seeking a Flower Mound-area family that is enduring a hard time — including but not necessarily limited to financial problems — and has an old, unsafe or malfunctioning furnace that the company can repair or replace.
Click here to nominate a family to receive the Gift of Heat. Triple A will cover all expenses, including permits, taxes and the disposal of the old equipment. Nominations must be submitted by Dec. 15, and Triple A will announce the winner later in December.