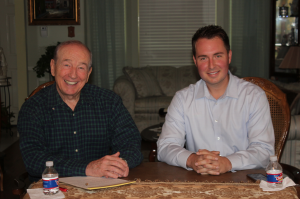 Ross Kecseg is the Vice President of Local affairs for Empower Texans and leads the Metroplex Bureau. He is a native North Texan, raised in Denton County. Ross graduated with a degree in Economics from Arizona State University in 2006, with a special emphasis on Public Policy and U.S. Constitutional history. His professional experience ranges from work at a top physician recruitment firm, to work as an analyst for a market research startup. For nearly a decade, he has been active in grassroots organizing, political campaigns, journalism, and as a resource for taxpayers looking to hold state and local officials accountable.
Ross regularly speaks to freedom-loving Texans regarding the need for tax and spending reform, government transparency and ethics, and the crucial importance of civic engagement. He's also an avid golfer, automotive enthusiast, foodie, and movie/music junkie. Mr. Kecseg is currently looking into the workings of appraisal districts in Texas. In a recent article, Kecseg wrote:
"The mayor of one of North Texas' largest suburbs has a glaring conflict of interest—he concurrently serves as a city official and as the county's chief appraiser. Even worse, two members of the appraisal district's board of directors who hired the appraiser are also local government officials. Most taxpayers are likely unaware that local taxing jurisdictions – such as cities, counties, and school districts – have undue influence over the appraisal process in every Texas county. That's because every member of an appraisal district's board of directors is elected – not by local taxpayers, but by local taxing entities inside the county. The larger the taxing entity, the more votes they get.
"But in Denton County, the conflicts of interest between local government officials and the appraisal district go much deeper. Two members of the Denton Central Appraisal District's (DCAD) Board of Directors – Charles Stafford and Dave Terre – are also elected officials. Stafford serves on the Denton ISD school board, while Terre is a city councilman in The Colony. In other words, the local government officials in Denton County have selected two of their own to be on DCAD's board of directors. As we've previously reported, DCAD's Board of Directors then hired the mayor of Lewisville – Rudy Durham – to be the chief appraiser.
"So, in addition to Durham controlling the property tax rates of Denton County's largest city, he also has control over the appraisal value of every residential and commercial property his city taxes. In an email to the Texas Scorecard, Durham confirmed he has been in his current position since 2012, and has worked at DCAD since 1986. This arrangement poses a serious conflict of interest. The property tax bill paid by taxpayers is the combination of two variables—the property tax rate, levied by local governments, and the property value assigned by the appraisal district that those same tax rates are levied against. The product of the two variables determines how much a taxpayer pays.
"Durham is in control over both—the tax rate levied by the City of Lewisville, along with the appraisal value of the properties it taxes. Surprisingly, this glaring conflict of interest remains legal under current state law. The day after Texas Scorecard reported on Durham's conflict of interest, DCAD's board of directors conducted Durham's performance review on October 26, and voted to keep him in the position. It's troubling enough that local taxing entities control property tax rates and elect the board that provides oversight to the appraisal district. But Denton County's taxing entities have crossed another line by electing two of their own to be on the board. And this board apparently sees nothing wrong with hiring a mayor (and licensed real estate broker) to simultaneously serve as chief appraiser."
For more info on Empower Texans, visit: www.empowertexans.com.
Bob Weir is a former NYPD officer, long-time Flower Mound resident and former local newspaper editor.