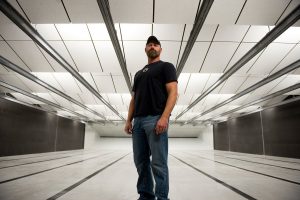 It's never been more important to take responsibility for your personal safety in today's world.
David Vaught and his wife, Sarah, believe learning how to respond quickly to a threatening situation will increase the odds in an individual's favor.
The Flower Mound couple are the owners of the built-from-the-ground-up 43,000-square-feet Crossfire Defense Academy & Range on 4.33-acres in the Lakeside Business District at 801 Patriot Way.
"We built the facility around the principle of what we're doing," said Vaught. "We want to offer more tools; how to mitigate a bad situation with soft, empty hands– without having to use a firearm. However, if everything breaks down and you can't avoid a situation, we want to teach you how to use a firearm safely."
The couple had their proposal turned down by a bank before Gregg Dunn from Greater Texas Capital and Lincoln Capital Management stepped in to make the Vaughts' vision become a reality.
Crossfire is a fully-encompassing self-defense academy, with four emphasis areas: indoor shooting ranges; a gym; retail store; and, martial arts studio.
Four individual, but related areas, reflect a similar portrait of Vaught's professional experience: a U.S. Navy veteran; a police academy graduate; an honors graduate from the Art Institute of Dallas and Southern Methodist University's Cox School of Business Entrepreneurial Program; and, production manager for The Richards Group advertising agency in Dallas prior to launching his own VaughtStudio advertising firm in 2004.
The graphic artist in Vaught put the facility design on paper to hand over to one of the top shooting range designers in America, Stuart Mullens.
A native of Austin who was raised in Richardson, Mullens stayed in North Carolina after college, where he's the CEO of Range Development Services based in Charlotte, NC., which he founded in 2010. His nation-wide range designs now include his design consultation on Crossfire in Flower Mound.
The local A Plus Design Group Architects (APDG) of Flower Mound completed the finished building design.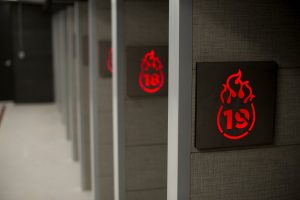 The state-of-the-art facility features not one, but two climate-controlled indoor shooting bays, with the capability to add another. The lanes feature AR-500 steel panels that overlap each other for safety and ricochet elimination, a moving trough captures spent rounds sending them to a secure disposal area, plus the entire building has a special HVAC system to eliminate lead vapor, guaranteeing clean air levels equal to an operating room. Vaught also has installed hand-washing sinks with lead-removing soap outside the ranges and showers to service shooters, as well as people taking fitness or martial arts classes before their workday.
Crossfire will be a family-friendly destination.
"This will be our family's legacy," said Vaught. "We have three daughters– age 12 and twins, age 10– so this is for them and their children."
So, parents can bring their children to a birthday party being held in the gym area and also be able to take a fitness or martial-arts class, use the 35-foot rope-climbing tower, or walk through an air-lock security zone into one of the ranges. Of course, there's an observation area in the gym, as well as a waiting area, which will feature fresh food vending selections.
The 6,000-square-feet retail area includes a federally-licensed store carrying a wide variety of battle-proven, reliable firearms, related equipment and gear for sport shooters, home defenders, concealed carriers and law enforcement officers. Equipment will feature a lifetime 100-percent guarantee. There will also be on-site gunsmith services, educational and event classrooms and a comfortable customer lounge.
All 20 shooting lanes will be overseen by Range Master Kevin Ross, former head of the Garland SWAT team.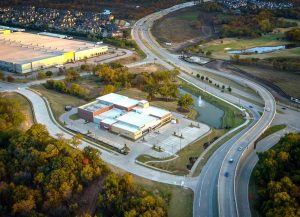 "Crossfire One" has ten, 25-yard shooting lanes rated for both rifles, pistols, plus firearms up to a 50-caliber sniper rifle. Each stall is a full six-feet deep with sound-abatement materials lining the walls and ceilings to ensure the safest and most comfortable indoor range ever built. Plus, the days of a neighbor's high-volume percussion noise interrupting a shooter's concentration and focus are a thing of the past.
Targets move forward and back with the click of a button. Custom shooting stalls provide shooters with a level of comfort and safety that is unprecedented in the industry.
"Crossfire Dynamics" has ten, 25-yard shooting lanes that are also rated for both rifles and pistols, as well as all the other lane amenities in Crossfire One. This shooting bay can reproduce a level of sim-training usually available only to military or law enforcement professionals. It is, quite simply, the next evolution in indoor live-fire shooting ranges.
In fact, Crossfire will hold professional law enforcement-only training sessions for the yearly 40-hours certification required by the Texas Commission on Law Enforcement (TCLE). Currently, the average law enforcement overall success rate is 20-percent. Crossfire's goal is to raise that result through simulation training for both mental and physical reactions to stress situations, shortening interim response times and accurate identification of potential threats.
Targets can rotate to show threat or no threat and are individually illuminated. Each lane can also run pre-programmed or custom-designed targeting sequences independently or in unison. Additionally, all lanes have the LE package to cast strobe lights on the target to add an additional level of difficulty for the shooter. The tables in the stalls can be removed to allow the shooter to work from the holster.
Under specialized courses and instruction, members will be allowed to move forward of the firing line for multiple target engagement. It's even possible to set up portable walls, windows and doorways inside the range to teach proper use of cover and clearing. A 360° rotation is possible to show threat/no threat situations and daily stress-shooting classes are offered.
Unlike most indoor shooting ranges, memberships are not required to use any of the four facility areas. Options include not only annual or monthly memberships, but also the choice to pay for a one-day-at-a-time fitness/martial arts class or shooting session.
A perfect example will be the Wednesday night "ladies night," with the only charge being that for ammunition fired.
Although Crossfire's "fireworks" spotlight the indoor ranges, the philosophy behind Crossfire is through its Defense Academy and how to diffuse a bad situation without having to use a firearm.
Cross-training daily fitness classes will be led by former Navy Seal Dan Licardo, with workouts that will challenge the body, as well as the mind.
In addition to Judo and traditional belt-driven martial arts, striking-arts– including boxing– and self-defense classes will be offered daily. Classes specifically designed for women and kids will be featured. Also, the nationally-acclaimed Kama Jiu-Jitsu will be taught by Professor Ryan Young, black belt, for those with the time and dedication.
There will also be a jogging trail surrounding the mature-treed front park area and its man-made pond, with benches and picnic areas.
"We've been in talks with the town about making it [the park area] public and putting the town logo on the wall facing [FM] 2499 to let drivers know they're in Flower Mound," said Vaught.
Annual memberships receive lane priority, expedited check-in, complimentary guest passes, one free target per visit and a three-percent reduction on retail, training events and gun rentals. There will also be member-only sales events, leagues, invitations to exclusive speaker and class events, plus manufacturer range days. Annual members will be able to reserve lanes up to one-month in advance.
For additional information and updates on their Grand Opening, scheduled for Nov. 24, visit: crossfiredefense.com.