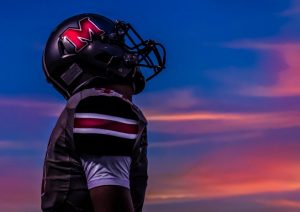 Trophy Club Nelson 31, Marcus 17
Things got off to a promising start for Marcus on Thursday night, as the Marauders jumped out to a 17-0 first quarter lead, but Byron Nelson responded with 31 unanswered points to get the victory.
Justin Dinka got things started for Marcus, scoring on a 2-yard run to give the Marauders a 7-0 lead.
Linebacker Ethan Barr followed that up with a 12-yard interception return for a touchdown.
John Mayers then kicked a 29-yard field goal to make it 17-0 late in the first, and even with two Nelson touchdowns in the second quarter, Marcus still led 17-14 at halftime.
It was all Nelson in the second half, however, as Marcus moved to 4-5 on the season and 2-4 in conference play.
Marcus will wrap up the regular season at 7:30 p.m. on Friday, Nov. 10 when it hosts Euless Trinity.
Argyle 37, Wichita Falls Hirschi 19
Argyle improved to 9-0 on Friday night with a 37-19 victory over Wichita Falls Hirschi.
The Eagles trailed 6-0 until late in first quarter when Wes McCollum scored on a 33-yard pass from Hayden Clearman to give Argyle the lead.
Noah Lang scored on a 1-yard run with 9:27 to play in the second quarter to extend Argyle's lead to 14-6, and the Eagles led 14-13 at halftime.
McCollum scored on a 25-yard pass from Clearman and Travis Garner kicked a 22-yard field goal to give Argyle and 11-point lead heading into the fourth quarter.
Don Williams, who rushed for 127 yards in the game, picked up a fourth quarter TD and Lang added his second touchdown of the game after breaking a 34-yard run to put the game out of reach.
Argyle will play at 7 p.m. on Friday, Nov. 10 at Burkburnett in its regular season finale.
Guyer 34, McKinney Boyd 7
Guyer cruised on Friday night, holding McKinney Boyd to one touchdown.
Kaedric Cobbs struck first for the Wildcats, scoring on a 1-yard run early in the first quarter, and added a 6-yard run in the second quarter to extend Guyer's lead.
Luke Stillwell connected with Seth Meador on a 68-yard touchdown pass late in the second quarter to take a 20-0 halftime lead.
Stillwell and Meador hooked up again in the third quarter on a 19-yard touchdown, and Meador finished the game with six receptions for 121 yards and two touchdowns.
Devin Jefferson scored on a 1-yard run in the fourth quarter for the Wildcats.
Guyer moved to 4-2 in conference play with the victory, and will likely finish as district runner-ups after wrapping up its season finale at 7:30 p.m. on Friday Nov. 10 against Plano West at Plano's John Clark Stadium.
Euless Trinity 37, Flower Mound 7
Things looked good early for the Jaguars in Friday night's game early on, but Trinity was too much as the Trojans defeated Flower Mound 37-7.
Trinity scored first in the game, but Flower Mound answered when Blake Short hit Jake Welch on a 19-yard pass to tie the game 7-7, where the score remained until late in the second quarter. It was all Trinity after that.
Flower Mound moved to 2-4 in district competition with the loss and will square off with Lewisville in its season finale at 7:30 p.m. on Friday Nov. 10 in Flower Mound.
Liberty Christian 33, Bishop Dunne 26
Liberty Christian remains firmly entrenched in the playoff hunt with a 33-26 victory over Bishop Dunne on Friday night.
Garret Moran scored on a 12-yard touchdown run to get things going for Liberty, and connected with Kade Johnson on a 30-yard pass to make it 13-0 in favor of the Warriors in the first quarter.
Moran tacked on another touchdown on a 1-yard run, and Liberty led 20-0 at the end of the first quarter.
Dunne scored two unanswered touchdowns to make it 20-14 at the half, but Cameron Baller extended Liberty's lead to nine in the third quarter on a 19-yard field goal.
Nate Hayden hit Grant Sawyer on a 25-yard touchdown pass and Baller kicked a 35-yard field goal to help Liberty hold on for the victory.
The Warriors improved to 4-2 in conference play and remain in third place in the TAPPS 1-I standings.
Liberty will host Fort Worth Nolan at 7:30 p.m. on Friday, Nov. 10 in its season finale.
Coram Deo 48, Fort Worth Temple Christian 27
Coram Deo continued its winning ways with a 21-point victory over Fort Worth Temple Christian on Friday night.
Ryan Rogers passed for four touchdowns in the game for the Lions, and Coram Deo broke two big touchdown runs with Jackson Jarvis (38 yards) and Hunter Longcrier (65 yards).
Defensively, Taylor Behm camed up big with an interception on Temple Christian's 12-yard line.
Andrew Mainord would score on a 12-yard rushing touchdown on the Lions ensuing possession.
Coram Deo improved to 7-2 with the victory and will wrap up the regular season at 7:30 p.m. on Friday Nov. 10 against Fellowship Christian in Kennedale.