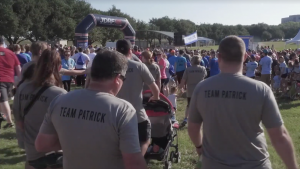 The Flower Mound Police Department released a video on social media this week about juvenile diabetes awareness.
The video goes "beyond the badge" with Sgt. Cassandra Gaines, who discussed her son Patrick, who died at the age of 28 after living with Type 1 diabetes for 26 years.
"When I think of Patrick, I think of somebody with a loving heart, a big heart," Gaines said in the beginning of the video. "I always think of him smiling."
Patrick was diagnosed with Type 1 diabetes at the age of 2.
"He was always upbeat about it, but he didn't like it," Gaines said in the video. "It was a constant struggle for him."
Gaines said that six years ago, when Patrick was 28, he got sick and he had a seizure.
"He didn't come out of it," she said.
November is National Diabetes Awareness Month.
Gaines is sharing her story in support of the Juvenile Diabetes Research Foundation, which aims to cure diabetes and help people with diabetes to live longer. Patrick's friends and family form "Team Patrick" at the JDRF One Walk every year, and Gaines talked about how significant those fundraisers are for supporting her and Patrick's dreams of a world without Type 1 diabetes.
Click here for more information about JDRF.