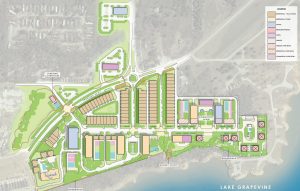 In a marathon Flower Mound Town Council work session Thursday night, developers unveiled their first-draft concept design for the 35-acre property named Lakeside Village.
This work session is the developer's third public discussion about the prime real estate located south of their thriving mixed-use Lakeside DFW development and west of FM 2499, overlooking Lake Grapevine.
"It's a really special place," said Richard Myers, managing director for Realty Capital Management and developer of Lakeside DFW, during the first public on-site open house event in early June. "We wanted to invite town residents and our neighbors here to come visit and give us their ideas for Lakeside Village. The Stewart family wants to keep the integrity of this place, but they also want to share it."
On Aug. 24, the developers held an informational meeting about the proposed project targeted to existing Lakeside DFW homeowners.
In addition to Myers, Jimmy Archie, managing director of Realty Capital Management, outlined planned features of the new mixed-use Lakeside Village Development: approximately seven lake-view restaurants; a natural-setting amphitheater; a triad of office and residential towers; commercial and retail space; one or two hotels; 85 single-family villa homes; and, a southern extension– from Lakeside DFW's Sunset Point– of the existing boardwalk, as a meandering lakeside trail; which will loop around the restaurants at the southern tip of the property to connect with the north-south main street.
Presenting the environmentally-sensitive project design's aesthetic view, selected by the Lakeside Village stakeholders, was internationally-known planner and landscape architect Kevin Sloan of the multi-disciplinary Kevin Sloan Studio.
"A plan is a construction of ideas to create a buildable depth, such as was done in Winter Park, Fla.," said Sloan, comparing that plan's main street design with retail, commercial and restaurants on one side, while a park setting parallels on the other side.
For Lakeside Village, the north-south three-lane main street (tentatively called Sunset Boulevard) will feature 34,000-square-feet of retail-commercial-restaurant space and on-street parking on the west-facing side, with views overlooking Lake Grapevine on the eastern side.
"Our planning comes from synthesizing ideas from other places to implement for a certain space," said Sloan. Included in Texas projects Sloan has designed for specific settings are the George W. Bush Presidential Library on the SMU campus in Dallas and the public gathering space surrounding The Alamo in San Antonio.
To illustrate how the design for Lakeside Village has been created specifically for the property on one of the inlets of Lake Grapevine, Sloan showed how positioning the Lakeside Tower related to the long and short axis of Lake Grapevine in a specific way, makes it possible for all four sides to have lake views.
"It [Lakeside Village] will be like people from Plano driving down to the Bishop's Art District; but better, because Flower Mound has Lake Grapevine," said Sloan.
Robert Luleff, president and managing broker of City Commercial Realty, was invited by Realty Capital Management to speak about restaurant leasing topics.
The most extraordinary space [at the southern tip of Lakeside Village] in the Metroplex area, is an auto-friendly plaza featuring seven specifically/individually-designed restaurants.
"The airport, the middle of the Metroplex, the lake … there's nothing like it any place," he said. "From a marketing perspective … with the hotel, office and residences it helps in the marketing to attract the best restaurants from across the country."
To serve the restaurant customers, a four-level, underground parking garage under the buildings, will feature open-space views and exits. An additional six or more parking garages of varying size will be interspersed throughout the property. The project will have approximately 400 street-level parking spaces as well.
"It would be a travesty to have surface parking, so the commercial space will be increased by putting the parking under the buildings," said Myers. "We've had many meetings with the [U.S.] Corps of Engineers, which owns the adjacent lake shore land."
The restaurants will also be adjacent to the City of Grapevine's Rockledge Park, which received a grant for a "training camp" for outdoor activities like kid's sailing and archery, among other sports.
The property features two large open space areas: a Community Lawn of 17,000-square-feet on the west side of Sunset Boulevard overlooking the 5,000-square-feet Sunset Green, which includes the amphitheater.
"It will have a three-mile walkable loop, including the boardwalk extension and we're in talks with Scott Tarwater [and the Unique Hotel developers] about connecting to their trails," said Myers.
Another component of the mixed-use development is the residential options. The current design includes more than 100 existing trees saved to serve as a "belt" of trees for an east-west border fronting residences– including 85-single family villas– which will be duplicated as a second east-west version for the additional parallel condo residences in towers of differing heights and number of stories with individual architectural designs.
It was the residential component that raised the first red-flag from the council and especially Mayor Tom Hayden, who said commercial development is the town's priority.
Without naming it, he referenced a large development [Southgate] that was also supposed to be a mixed-use project, but has morphed into a residential development. He said a DA (Development Agreement) with set building phase triggers, rather than a single-phase plan as requested by the developers, would be a preferred construction approach.
Myers said to try to put a timeline restriction on a DA of what gets built in what order is going to, "kill the deal." To put certain pieces of the project off-limits, until other pieces fall into place, would make it hard to secure financing.
"This is $1.4 billion worth of development," Myers said. "You can't program it in that fine-tune of a fashion."
The combined Lakeside DFW and Lakeside Village estimated ad valorem value is $1.6 billion, with $7 million tax revenue to the town.
The possibility of using a Tax Increment Reinvestment Zone (TIRZ) financial plan to fund the infrastructure for Lakeside Village was discussed.
The town's current TIRZ was established in 2005 to fund projects within 1,465-acres along the FM 2499 corridor over a 20-year period. Projects included town streets, the new Town Hall, library expansion and the new Senior Center.
"The restaurants must come first, but it all drives each other," said Myers. "If you set up the infrastructure all at once, you'll see who shows interest first or in what order. We won't start the parking garage, unless we have a committed restaurant. Then, residences and office tends to wait until they see what's there."
Town Manager Jimmy Stathatos expressed concern about a lack of construction triggers until Myers guaranteed that no TIRZ funding will be used until there are signed restaurant contacts.
In addition to the commercial-to-residential construction concerns, the residential land-use percentage was also a concern– especially for the $1 million single-family villas.
"I think there may be too many single-family residential, but the rest of it looks perfect," said council member Claudio Forest.
"I like the south end [restaurant plaza], I love that a lot," said Deputy Mayor Kevin Bryant. "I think the single-family doesn't feel right."
"What about having loft residences over another retail or commercial street-level promenade," suggested Mayor Pro Tem Don McDaniel, receiving general support.
Two of the three towers will be flexible for office space; the [U.S.] Corps of Engineers prohibit overnight sleeping in one of the towers.
"If we don't attract office, we'll forever be a bedroom and commuter community," said council member Bryan Webb. "As the region continues to grow, it will be a greater and greater frustration."
Webb also pointed out that a new TIRZ district must include a project benefiting the whole town, not only those in the Lakeside Village. His proposal to include a Flower Mound Cultural Arts Center (which was listed on the TIRZ 1 project list) received enthusiastic support from both council members and developers.
Also, an additional southern access was uniformly requested by the council.
"How do you get people driving down construction zones to get to the restaurants," said McDaniel. "How do you get the service vehicles in and out? Because if people need to drive through all the construction to get to them, that's a lot of crap to drive through."
Development Services Executive Director Doug Powell said: "They have some challenges to meet; some of the mixed-use project requirements. Especially building six parking decks. Access issues are a concern– one access within the entire length, servicing the restaurants– who wants a beer truck behind a $1 million home?"
"It's like playing three-dimensional chess," said Myers. "It's going to continue to evolve over the next 10-years. This is a once-in-a-generation opportunity to provide something for the Baby Boomer market."
Jimmy Archie said they've been working on Lakeside Village over the past year.
"We don't yet have a Site Plan to address the [food, liquor and other service] delivery questions, among others before we bring it forward to P&Z," he said. "We're going to keep our December wish-date to be ready. Next July we'd like to start dirt-work, then 12-16 months for infrastructure."
If all goes according to schedule, the restaurants could be ready the summer of 2019.
"There's a big learning curve for us on the size and scope of the project, because we haven't done this– like Plano or McKinney– so we might ask stupid questions and go around in circles," said McDaniel.