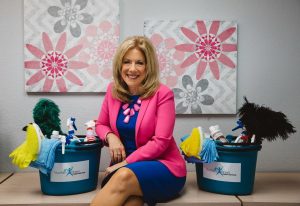 Debbie Sardone, a Flower Mound resident and owner of Buckets & Bows Maid Service in Lewisville, raised $10,000 in 24 hours for cleaning companies in Houston's hurricane-affected areas.
When Sardone heard that some of her colleagues in the city's residential cleaning industry were struggling after Hurricane Harvey, she committed to help. After all, these were her fellow business owners and she has personally coached many of them over the years.
She put word out that she was offering her signature training course at half-price for 24 hours with 100-percent of the proceeds going to help the victims. And cleaning business owners around the U.S. and Canada responded.
Sardone raised $10,000 in a single day to go directly to Harvey-impacted maid services.
"The $10,000 will help these businesses clean up their locations, replenish damaged supplies, make payroll and help keep their doors open while they regroup after this tragedy," Sardone said. "It was fantastic to connect with other business owners who wanted to take my training course and are loving that they could help colleagues in a direct way."
In addition to being owner and president of Buckets & Bows Maid Service, Sardone provides training and business consulting to cleaning companies around the world. She speaks nationally on maid service business operations, growth and how to attract, train and develop the best staff.
For more information on Buckets & Bows, visit their website. For more information on Sardone's maid service training and consulting, click here.
Submitted by Diana Risell