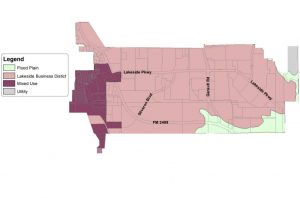 The joint work session with the Flower Mound Town Council and Planning & Zoning Commission on Monday night was held to discuss the future for the undeveloped 290-acres of the Lakeside area at the town's southern border with Grapevine along FM 2499. Repeating the luck of having medical instrument giant Stryker's decision to locate its world headquarters in Flower Mound is most unlikely.
The almost five-hour meeting could be deemed successful, in that all parties in attendance agreed that a consensus-of-vision needs to be reached, in order to form a plan for development. Unfortunately, that vision isn't clear; like driving into a dense fog bank without even fog lights on the car.
It also was apparent that since the start of the economic recovery in 2010, past Town Councils have kept "kicking the Lakeside can down the road." Well, the town has run out of more road. It's time for Flower Mound's Town Council to pick-up the Lakeside can and list its contents– as well as what's not included.
Deputy Mayor Pro Tem Kevin Bryant expressed the question on most people's mind: "How do we get from today to that vision?"
Among the speakers who offered some answers to his question were: Lakeside DFW and Lakeside Village developer Richard Myers, managing director of Realty Capital Management; Courtyard by Marriott Hotel at The River Walk developer Scott Tarwater of Newstream Hotels & Resorts– developers of the future Unscripted Hotel in Lakeside Crossing; Flower Mound resident and property broker Doug Carignan, executive vice president with Jones Lang LaSalle (JLL) in Dallas, who has been involved with attracting new lease-holders in properties like the former Encana Oil & Gas 12-story, 318,000-square-foot office tower in Plano; and, Nathan Durham, senior vice president of Transwestern's agency leasing group since 2013, who has most recently been involved building a new five-story, 310,000-square-foot office building in the CityLine development neighborhood in Richardson.
First to the podium was Carignan who gave a quick answer: "There's no [existing] office space in Flower Mound."
He explained that a 300- to 400-employee business (such as a large law firm) needs 150-square-feet per person- with private office space, it would be 300-square-feet per person– requiring an office building from at least 2,000- or 3,000-square-feet, up to 5,000-square-feet. But, a multiple-business building means having a larger option to offer.
"It's important to know that there's demand for a five-story, 80,000-square-foot building, but how do we get that built?" asked Mayor Pro Tem Don McDaniel.
Carignan said that if a facility isn't physically available, at least there needs to be renderings of possible designs deemed acceptable and that there's an approval to build, once a tenant is on-board.
"It's also important to have employee labor analytic [statistics], as well as drive-time for potential employees," he said. "Look at Irving and Las Colinas with their proximity to the airport," he said. "We [Lakeside] has the lake views, plus access to 2499 and [being closer to] the airport."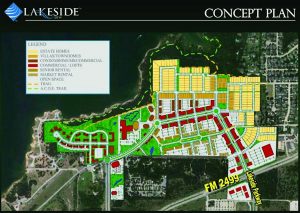 Andrea Roy, director of Economic Development, said: "We need to look at the breakdown of residential-to-commercial for Lakeside Business. With only 290-acres left, I need to look at how to market this [land] for office/industrial. Projects like Stryker are an example of a mix of office and warehouse/industrial, so we need to offer a mix of land use."
She added that there's no new residential need at present, because there will be 5,000-units [in Southgate or Grapevine] within two-miles of the development area.
Town Manager Jimmy Stathatos agreed, saying, "I disagree that multi-family residential is needed in order to attract office."
In fact, the Southgate development approval by council is a major red flag for future Lakeside projects.
"Southgate originally was to bring in a diversified development with 200-for-sale [residential], with 3,000-square-feet of commercial [to be built] before the for-sale development," said Mayor Tom Hayden, adding that a wording loophole negated that requirement. "Our tax base is 80-percent residential, unlike Grapevine or Lewisville with tax-bases that are 50-50-percent residential to commercial. We need to work to change that percentage."
"Lakeside DFW's [residential] Tower, retail, movie house and the changed Master Plan to include limited residential, but then you [Hayden] said, 'no new apartments on my watch,'" said McDaniels.
Council member Bryan Webb underscored Hayden's tax base reference: "The Master Plan is a reflection of what the residents want. It calls for an economic base."
Council member Jason Webb added, "The goal is to help our commercial tax base."
Durham was asked what factors are included in a successful development like CityLine. He said that from a developer on the landlord side, CityLine was selected for its DART access and its location near Legacy/Central 75.
"It features 92,000-square-feet retail, restaurants and entertainment, connection to 4.5-miles of nature trails, several multi-family complexes and hotels and proximity to two DART stations," he said. "The new office building features structured parking, a fitness center, an on-site café, outdoor café seating. It has 92,000-square-feet of office space, 700 apartments, 125,000-square feet of retail space, a 25,000-square-foot fitness facility, 10,000-square-feet of conference space and a food hall."
Before he left the podium, Durham added, "You need to put a 'stamp' on this gateway You need to have a good developer."
P&Z Commissioner Laura Dillon agreed, saying, "I know that's our commercial corridor and our gateway into Flower Mound;" after which everyone nodded in agreement.
Also receiving nods of agreement was Council member Claudio Forest, former chairman of P&Z and a 40-year development and construction professional.
"We should be looking at this in a holistic way; as one project," he said. "All the uses, needs– office, institutional, commercial, retail– should be up front on 2499, but I'm not going to set a certain amount of limited residential, because it needs to be placed behind. There needs to be a balance for the percentages."
P&Z Chairman Perfecto Solis said, "We are at a crossroad and we definitely need to look at this in a holistic way. There is a time-sensitivity, given what some of these developments are doing. Visually, it's important to set it as a gateway in to Flower Mound."
"We've got 290-acres, but how much is actually developable?" asked Forest. "The best thing we can do, is tell them [town staff] what our vision is, so that when a developer comes to staff, they can tell that developer that the project doesn't meet our vision."
Again, the "V" word was voiced.
"If we can't articulate the vision, we make it hard on the staff," said Commissioner Brad Ruthrauff.
"I'm not sure I know what 'the vision' is," said Myers, who has successful local developments. "I think you may need to bring in an urban planner to help put that vision together."
To put it in a more relatable context, substitute trying to pull-off a theme wedding without an event planner. The florist, caterer, photographer and members of the bridal party have no idea where the venue is located or what it looks like. On top of that, everyone knows that a wedding is "all about the dress," but no one knows if the bride wants it to be with lace or no lace, modern and short or traditionally long with a train, white or ivory or blush, but probably not black; unless it's a designer Dior– then we'll talk.
Now, add to all that the twist that there are five brides involved who'll share the ceremony.
The 290-acres of undeveloped property remaining in Lakeside is split by five different owners.
"No one falls in love with a plan, they fall in love with an idea," said Commissioner Heth Kendrick. "You can change the plan within the idea. It's not up to the town to craft something for the developer."
"I don't want to look at the puzzle pieces," said Bryant. "I want to look at the whole project. We're looking at this to be a commercial engine for this area. I've got to see what fits each property."
Jason Webb agreed, saying, "I think it's important to get the property owners to all agree on what our vision is."
Commissioner Laile Neal pointed to how easy the transition from the existing Lakeside DFW development to that of the future Lakeside Crossing was, noting that while they aren't identical architectural designs, they enhance each other.
Several times during the meeting, developers pointed to the vision "Lucy" had had for her developments and that she had bought up property over a decade to be the sole property owner, unlike the Lakeside situation.
Well, it turns out that "Lucy" is Lucy Crow Billingsley– daughter of legendary Dallas real estate icon Trammell Crow– and co-founder of the Billingsley Company; developers of the Four Corners at the George Bush and Dallas North tollways in 2011.
Their 32-acre Master Planned development, with its four buildings, was created to be an architectural gateway into North Dallas and Plano. Each build-to-suit LEED-status building features 10-stories of office space above six levels of parking.
Her current development focus is The Sound at the 1,000-acre, $3.5 billion corporate Cypress Waters project– built around the artificial 362-acre North Lake– with Coppell to the north and Irving to its east.
In terms of North Texas real estate development, the Billingsley Company is a Jaws-sized great white shark; and, Flower Mound will never have a big enough boat. However, to attract any larger fish, the town needs to upgrade from a rowboat and dangling worms, to a 40-foot sport-fishing boat with live bait-fish and heavy-duty rods-and-reels.
P&Z Vice Chairman Mike McCall, in his professional life has helped bring developments to both Irving and Las Colinas, said, "I don't know how you sell this if you don't offer big enough incentives to attract developers. But, those developers need to bring things to the town to earn those incentives."
"Just because it's not individual, doesn't mean they can't have a shared common vision," echoed McDaniel. "My sense of urgency is in response to the number of applications coming in and that we only have one opportunity to get this right."
Tarwater, whose family were pioneers, settlers and owners of the original homestead now known as Lakeside, urged council members to hold more strategic meetings with P&Z Commissioners and property owners to reach a common goal for the land. After a vision is reached, let the town staff move it forward.
"You have an A+ staff," he said, adding that they made the process of developing both of his Flower Mound hotel properties a smooth and easy process.
Commissioner Al Picardi summed it all up when he said, "If we can't sell an area overlooking a lake, a golf course and the airport, we're in the wrong business."