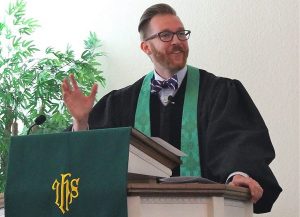 by Rev. Jake Clawson, Pastor, Trinity Presbyterian Church of Flower Mound
In our culture, middle ground is vanishing. You know what I am talking about…Remember last Thanksgiving when Uncle Ronny flew off the handle because you bought a Nissan instead of a Chevy?
Or, more seriously, that time you disagreed with a national policy decision and your friend acted like you were destroying the very fabric of our society? You might as well be committing a crime!
Or this: I am a recent transplant to Dallas from Pittsburgh and I simply cannot bring myself to cheer for the Cowboys. For all intents and purposes, I am an enemy of The State. Don't tell Jerry. Where is that middle ground again? We live in the land of "this" or "that."
I suggest that we stop searching for middle ground and turn instead to what Walter Wink identified as the "third way."
In a world of fight or flight, Jesus teaches a different approach, dropped, as it were, out of heaven as a balm for the wounds of our division.
The answer to our violence, disagreement, and all manner of disjointedness is not to force one side over the other but to break the cycle by being spun out of it.
If the life of Christ seems odd and holy and wonderful, it is because he is marvelously terrible at "this or that" and "fight or flight." But he is perfect in love.
Of course, learning the lessons of "turning the other cheek" and "going the extra mile" are easier learned in Sunday School than lived in the home or the office. However, should we discover that third way of love, even love for those we deem our enemies, we might find something better than a way to agree to disagree.
Postscript: For a deeper look at this third way thinking, listen to Rev. Jake's sermon on August 20th at www.tpcfm.org/sermons

The Pastor's Place features columns written by a different area church leader each month.Call 940-728-8284 for more information.