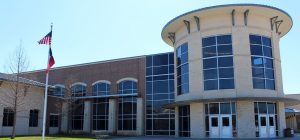 Denton ISD and the principal of Guyer High School addressed lots of questions and concerns from students, parents and the community Friday in response to an offensive social media post by a student.
Denton ISD was alerted Thursday evening about the post on the social media network Snapchat made by a girl who goes to Guyer, said Mario Zavala, director of communications for Denton ISD. He said the post "had racial undertones."
On other social media platforms, several people have shared screenshots of the student's Snapchat post, which appears to describe a conversation she had with someone who told her that 200 people died in the 7.1 magnitude earthquake that shook Mexico on Tuesday.

The girl says in the post that she responded, "oh good thats 200 less mexicans trying to come across that border"
The post is "not a school matter," Zavala said, as the student was not on campus or at a school-related event when she made the post, and it wasn't directed at any other students specifically. But as people shared screenshots on social media, they identified her as a Guyer student, causing a lot of emails and phone calls from people who wanted to know if there was a connection between the school and the student's comments.
"We got involved because it became a distraction to the campus and community," Zavala said. "The comments just happened to be made by one of our students, and we don't condone them."
Shaun Perry, the principal of Guyer High School, posted the following statement on Twitter early Friday morning:
"We are aware of the insensitive comments made and do not condone or agree with the views they reflect. @GuyerHigh is proud of our diversity."
Discipline matters are "handled between parents and campus leadership," Zavala said, adding that the student was not at school Friday.
The school sent home a letter to parents Friday, encouraging them to have conversations with their kids about these kinds of issues. Zavala said he hopes parents use the incident "as a learning tool."
"It's an opportunity to tell them that yes, you have freedom of speech, but there may be consequences," Zavala said.