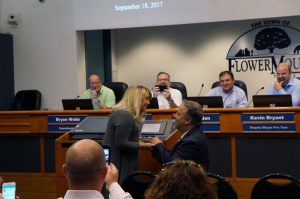 One of the best examples of "citizen engagement" was on display at the Town Council meeting on Tuesday night in Flower Mound.
Jimmy Stathatos, the town manager, wanted to propose to his girlfriend, Michelle Dishman, in a memorable, unique way that could be seen by all of their family members. Stathatos had crossed paths with Dishman, a Flower Mound resident who was very involved in the community, but he really got to know her well late last year, and it was at a New Year's Eve party that "was when I knew she was the one."
"We've been inseparable ever since," said Dishman, who is also an administrator for the Facebook page Flower Mound 2.0.
Because Flower Mound streams its Town Council meetings on Facebook Live, and because he and Dishman are so involved in the town, he thought a council meeting would be a great place to propose.
"I thought it'd be a neat, special thing to share with the town," he said.
Stathatos ran the idea by the mayor and Town Council, who liked the idea, he said, then he had to get Dishman to the meeting without her being suspicious.
Dishman works for Crossfire, an upscale self-defense academy and gun range that is finishing construction in Flower Mound. The town had a proposed agreement with Crossfire to help train policemen and firefighters, so Stathatos made up a problem with the agreement to get Dishman to the meeting.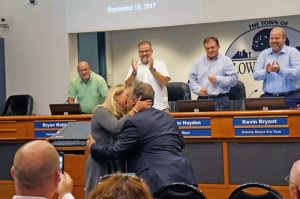 "We always want to improve on citizen engagement," Stathotos said during the meeting from his seat among the Council members. He then walked to the podium where speakers usually address council and nervously invited Dishman to the podium.
"I was told I was there for work," Dishman said. "When he called me up, I thought he was going to make me speak about Crossfire."
When she walked up, Stathatos took her hand and started talking about how much she meant to him, and that's when Dishman realized she wasn't there for public speaking, something she dreads, but in fact a proposal.
The rest of the moment was mostly a blur for Stathatos, he said, but after a few more nice words he popped the question.
She said yes.
Stathatos said he was worried that Dishman wouldn't like such a public proposal, but she said she "loved it" because their families were able to watch it.
"The most shocking of surprises can also be the best surprises," she said.
Watch the proposal below (starts at the 2:07 mark):