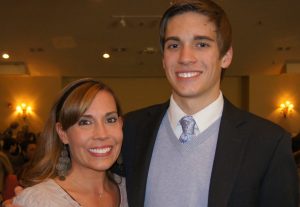 With the start of the school year underway, families are getting back into the academic swing and the rigors of time management.
Most parents of adolescents have a strong desire to support and encourage their child's academic and social success.  We remember clearly our own challenges from this stage in life and wish to help our kids avoid some of the pitfalls we may have encountered along the middle and high school path.
Our intensions and parenting are heartfelt. We understand the changes that arrive during the teen years; hormones, social acceptance, romantic relationships, the pressure of the college admission process and steep tuition. Those fears can be exacerbated by our concerns around daily use of social media as a primary method of communication … something our parents never had to worry about during our youth.
However, at times, even our best intentions– and what we feel is a strong message of unconditional love for our kids– isn't enough to help them navigate adolescence; which often has more going on than what a parent can detect on the surface. Symptoms of depression are often a red flag for future concern.
Unfortunately, this was the tragic situation that Highland Village mother of five, Tamara Castaneda, found on Aug. 6, 2013, when her eldest son, Nick Chase, 18, took his life just a few short weeks after graduating from Marcus High School. He was at the beginning of a college career at Brigham Young University.
"Does he know how much I love him?!" This was the continuous thought racing through her panicked mind as she drove from Highland Village to Grapevine on that fateful day, in response to the phone call she received about Nick's ominous post on Facebook.  Unfortunately, Castaneda did not have the opportunity to ask her son, because by the time she arrived at the scene it was too late; Nick had taken his life.
A member of Academic Decathlon (AcDec) in his senior year, an Eagle Scout, involved in his church, well-liked socially, loved by his parents and siblings, Nick appeared to have it all; which was why his suicide was so unexpected by his mom and by so many others who loved him.
There was a lot more going on in Nick's life than what appeared on the surface and it's this hindsight that drives Castaneda to speak out about her personal experience, as well as the often touchy topic of teen suicide.  She wants to enlighten other families about keeping perspective about children's academic goals, family priorities and balancing connection with what our culture often labels as "success."
Castenada's story is one from which we can all learn.
The Tarrant County Medical Examiner's Office reports there have been a total of 19 confirmed suicides in Denton County between 2008 and mid-2017; the majority of which were white males between the ages of 14-18. Of the 19, only two were female.
It is important to note these statistics do not reflect intentional or accidental overdoses resulting in death due to drug and alcohol use.  Also relevant– where a suicide actually takes place is the jurisdiction in which it is reported.  So, for example, if a person who is a resident of Flower Mound, but actually committed suicide in Coppell, it would not be reflected in Denton County records, but in Dallas County.
Flower Mound Police Department Public Information Officer Wess Griffin shared there were three teen suicides in Flower Mound between 2015-2016, all were males. Griffin also noted that, according to FMPD records, adult males (ages 30-60) currently have a higher rate of suicide than teens in our area.  He added that he felt societal pressures and availability of firearms are the main reasons for suicide in Denton County.
The consensus of those who were interviewed, first mentioned by Griffin, is for parents of teens to be involved in their kid's lives; meaning be nosy and do not be in denial, confront the situation before it's too late. 
Chasity Lansdell, guidance counselor at FMHS, mirrored that sentiment.
"There are huge differences between our generation and theirs; connectedness in the family is lacking," she said. "In my experience, parents are taking the lead and making it their purpose to find their child's purpose, rather than allowing them to explore what naturally interests them."
So, in some cases parents are over-involved and, naturally wanting the best for their kids, may push them into academics or activities in which their child has little interest.  On the flip side, there are some parents who know well their children are very internally driven and worry at times about the stress level that laser-style focus may cause.
Lansdell also encourages parents to attend the organized education nights area school districts offer. LISD organizes Parent University throughout the school year as an opportunity to connect with other parents in the process of learning and experiencing the challenges that our teens are facing today.
Issues like stress (personal, peer, parental), anxiety, pressure around getting into college (or the "right" college); and, of course, social relationships that can get tricky during this stage of development.  She notes there are some new programs starting in the schools this fall aimed at supporting students experiencing anxiety, grief and motivation issues.
Lansdell went on to state it is LISD's policy, when a student or parent reports the suspicion of a child in danger of suicide, to immediately call in the student, contact the parents and to have a psychological assessment completed.
There is also protocol in place for attending to students who have experienced a friend/classmate who has attempted to or has actually taken his or her life.
According to the American Association of Suicidology, a youth is at critical risk of suicide if he or she: threatens to kill him or herself; talks of wanting to kill him or herself; and/or looks for ways to kill him or herself, by seeking access to firearms, pills, or other means and/or talks about death, dying and suicide– actions which are out of the ordinary.
If your child somehow indicates or communicates suicidal thoughts, take action immediately by contacting a mental health professional, your local emergency department, or by calling 9-1-1.
Typical behaviors and symptoms may also be present:
Feelings of hopelessness
Anxiety, agitation, trouble sleeping or sleeping all the time
Expressions of having no reason for living; no sense of purpose in life
Feelings of being trapped – like there's no way out
Increase in alcohol/drug use
Withdrawal from friends, family, and community
Rage, uncontrolled anger, expressions of wanting or seeking revenge
Reckless behavior or more risky activities, seemingly without thinking
Dramatic mood swings
Giving away prized possessions
In addition, Griffin stated Denton County has numerous resources available to families who are experiencing emotional or mental health crisis.  Some of these include:
Youth and Family Counseling, 972-724-2005
Denton County MHMR, 800-762-0157
Suicide and Crisis Center of North Texas, 214-824-7020
Winning the Fight (family drug/alcohol resource), 972-467-7704
Kyle's Place (homeless teen shelter in Lewisville), 469-470-2382
Some additional national resources include:
Suicide Crisis Line, 800-273-8255
National Alliance on Mental Illness, 800-950-6264
Mental Health America, 800-969-6642
In putting together the pieces of the puzzle surrounding Nick's final months and tragic suicide, Castenada noted Nick had become preoccupied with academic success and his contribution to the state-level AcDec competition to a point of distraction and was using large quantities of caffeine to allow him to stay awake and study for long periods of time.
When the state competition did not go as well as he and the team would have liked, Castenada now reflects that this seemed to be a catalyst for the shift in Nick's mood and level of motivation.
"Don't even tell me it was all worth it, it was all a waste of time," is what Nick told his mom, when she attempted to console him about the outcome of the competition.
As she continued to try and help Nick lift his spirits and look toward his bright future, regardless of the results of AcDec, Nick began to distance himself further and (unbeknownst to Castenada at the time) within this same timeframe began to drink alcohol recreationally.  In addition, Nick was also involved in a romantic relationship that had its ups and downs in the weeks before he ended his life.
As our teens face nearly constant daily messages about how they "should" dress/act/look in their lives, so do parents of adolescents. This has contributed to dysfunction in the family unit over the past decade; enhanced by technology, which has become part of our daily lives and a main method through which we communicate with family and friends.
That rise in disconnection between parents and children, as well as the keeping of busy schedules– in an effort to raise teens who are well-rounded– has fueled the lack of time, energy and ability parents have to engage meaningfully with their children.
Adolescence is a time when our sons and daughters, in their natural quest to gain independence– indeed, part of the growing-up process– will make mistakes and push boundaries.  Our role as moms and dads during this critical developmental stage is to understand this (without excusing behavior or tossing out structure or discipline) and to support, encourage and love unconditionally our sons and daughters through their teens and into their independent young adult life.  To parent with, not over, our teenagers!
"We must help our children realize there is nothing they could do that would diminish our love for them," is Castaneda's message to all parents; and, it will resonate with many this fall.
As we begin to understand that keeping in perspective academic and social success, while building meaningful connections with our children, is the most important action we can take to help our adolescents cope in today's sometimes confusing culture.
Upcoming Events:
Consciously Parenting Our Tweens & Teens Flower Mound Meetup is a support/encouragement group that meets monthly at LaMadeline (2500 Cross Timbers Road, Flower Mound, 75028) from 7-8:30 p.m. on October 23rd and November 27th.
The Enlightened Mom Weekend Workshop at The Union (2300 Highland Village Road, Highland Village, 75077) is October 20-21st. This is a workshop for all moms, stepmoms, grandmoms who would like to jumpstart their transition from challenge and chaos to peace and joy on their life's journey.
LISD PTA is sponsoring a free 4-part workshop series for parents and their adolescents to attend centering on home and family life.  Teen Talk Session 1 is scheduled for Saturday, October 7, from 9 a.m. to noon at Durham Middle School (2075 S. Edmonds Lane, Lewisville). RSVP at www.facebook.com/events/171369303426011