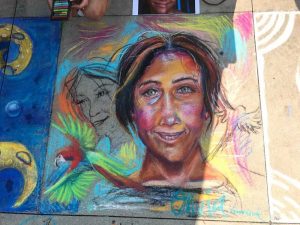 Earlier this month, eight Liberty Christian School art students tried out their street-painting talent at the annual Denton Main Street Association's 18th annual "Arts and Autos" event in downtown Denton.
LCS students Olivia Govednik and Alexandria Hurd took first and second place, respectively, in the Chalk Art Fest and Contest at the event on Sept. 9, according to a school news release. Olivia won a $125 prize, and Alexandria took home a $75 prize.
"Our Art Department encourages students to be expressive, to use the technical skills we have taught them like color blending, proportions, and value, and to simply have a good time," said Kayla Beall, LCS art teacher. "That is exactly what happened last Saturday.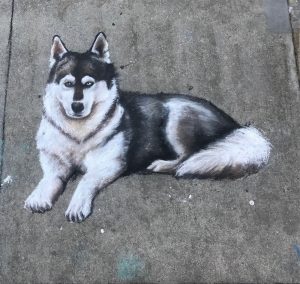 "To say that we are proud would be an understatement."
During the event, artists of all ages contributed to transform the bare sidewalks of downtown Denton into a vibrant display that lasted for days. Other LCS students who particpated included Regina Feng, Kiley Fernandes, Amalya Graham, Rachel Jolley, Collin Park and Arnold Xu.
"The Chalk Art Fest and Contest did not feel like a competition at all," Beall said. "It was more of a fun, relaxing, and encouraging way for some of Liberty's art students to showcase their God-given talents."