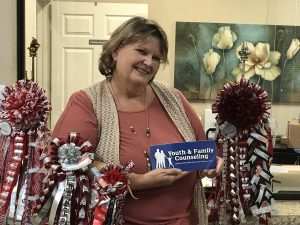 by Jim Linker, Contributing Writer
September brings the beginning to the end of summer, but more importantly, to most Texans, football! And, nothing says Texas football like high school football.
Whether driving down a dark and dusty country road on a Friday night, with only stadium lights in the distance, or filing in through the crowd at one of our state's multi-million dollar mega-stadiums, Texas high school football is king.
As with most things in Texas, "bigger is better" became popular in the homecoming mum industry during the 1970s and created what has become an annual floral display of excess. With the increase in size comes a direct correlation with cost. If current day mums look big and gaudy, their price tags are equally big and gaudy; often reaching into the hundreds of dollars.
However, in recent years, there have been growing whispers going through school hallways that maybe the money spent on elaborate, over-the-top, ridiculously huge homecoming mums could be better spent; possibly even for a good cause. Gasp!
To that end, Dawn Lee of Hickory Creek created Mindful Mums, a grassroots initiative to use homecoming mums and garters as vehicles to raise awareness and funds for Youth & Family Counseling of Denton County (YFC), which has been offering quality mental health services for all income levels since 1981.
Lee began making mums in the early 2000s, when her son played PeeWee football. She has made approximately 700-800 mums since, with the largest weighing 13-pounds and having 27 flowers.
In her words, "God gives us all a unique talent and apparently, mine is knowing how and where to put the bling on an oversized corsage."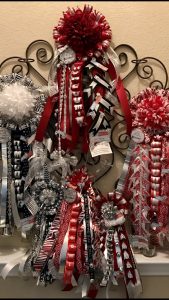 A typical mum takes between two- to three-hours to make, with some of the more extravagant ones taking upwards of seven- to eight-hours. With her youngest away at college, Lee has settled in at making between 30 to 40 mums a year, mostly for friends and through word of mouth.
"I was looking for a community organization that worked with young people so we could do something that young people could relate to and YFC seemed like a natural fit," said Lee.
YFC was thrilled to partner with Lee on her endeavor. According to YFC Executive Director Terri Donsbach, "Mindful Mums is a wonderful opportunity to mix tremendous fun for our teens with promoting positive mental health for everyone."
There is a definite need for YFC's services, as Donsbach added: "During the 2016-17 fiscal year, we completed over 4,000 therapy sessions in the first six months, doubling the previous year. We had a waitlist throughout the year, as there are consistently many in need of our services at both the Lewisville and Denton offices; mostly requiring services either after school/work or on Saturdays."
In addition to YFC, the Texas-based Okay To Say program will benefit from Mindful Mums.
According to the Okay To Say website: "Okay to Say was launched by the Meadows Mental Health Policy Institute and our partners to increase awareness that most mental illnesses are treatable and to offer messages of hope and recovery to Texans and their families."
Each Mindful Mum item will contain an Okay To Say badge and ribbon, creating a conversation-starter for the students, enabling them to know that mental illness is something that can, and should be, openly discussed.
In its first year, Mindful Mums will be producing mums for three high schools–Flower Mound, Marcus, and Lewisville– with hopes of expanding into other parts of Denton County in the future.
"This is a seed year and we are going to create brand awareness– so the community becomes mindful of the trend, so that it doesn't just come from my home anymore," said Lee. "Organizations within the schools will make homecoming mums their own cause and adopt the plan to sell mums and share the proceeds between their chosen cause and their organization."
There are two ways that Mindful Mums will work. First will be a drawing held at each of the three high schools for one mum/garter set. Currently, these mums/garters are on display at the YFC center; 105 Kathryn Drive, Building 3A in Lewisville and tickets can be purchased there. Lee was working to expand the location sites and will update information on the Mindful Mums Facebook page.
One ticket is $2, or three tickets are $5, and the drawings will be held the week prior to each school's homecoming game. All proceeds from these drawings will go to YFC.
The second way Mindful Mums works is for people to order mums directly through the Mindful Mums of Denton County Facebook page. Standard and custom orders can also be made through the Facebook page, where mum and garter pictures can be found.
Standard mums are $70 and garters are $50, with $25 from each mum and $18 from each garter donated back to FYC and the balance covers the cost of materials and a small assembly fee. Each mum/garter is created with the specific school's colors and standard mums contain: at least 20 ribbons; three specialty ribbons; at least five bells; and, trinkets. Cowbells, mum chains and various element of bling can be added on at an additional charge.
If personal materials are provided, mums can be assembled for $50 and $25 for garters, but the donation amount remains the same. However, additional custom bling can be added for a fee and those additional funds will also go to YFC.
These are hand-made with extra bling, "not like the ones found in craft [or grocery] stores."
A do-it-yourself kit is also available to create a Mindful Mum. Each kit contains: a YFC donation button; an Okay to Say badge; plus, one custom ribbon and one custom braid in the respective school's colors to use with personal supplies to create a mum. Kits are $10 each, with $5 from each kit donated to YFC.
Mum and garter orders must be placed by the Friday prior to each school's homecoming game to be delivered on the Wednesday of homecoming week.
Homecoming dates:
Flower Mound High School – Sept. 15
Marcus High School – Oct. 13 (deadline, Oct. 6)
Lewisville High School – Oct. 20 (deadline, Oct. 13)
For more information, contact: Dawn Lee at Mindful Mums: 214-673-6350; Youth & Family Counseling– www.youthandfamilycounseling.org, 972-724-2005; and, Okay To Say: www.okaytosay.org.