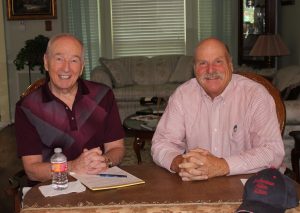 If you've ever known people with the type of personality that lights up a room and brings joy to those around them you'll agree that they've left an indelible impression on you. Some people just seem to have more than a fair share of life's blessings, mainly because of the positive attitude they project as they greet those in their orbit with a friendly smile and an optimistic outlook. Such personal magnetism is rare in a world replete with negative input from a multitude of influences.
The foregoing is merely a brief description of William Brotherton, a multi-dimensional man who owns the Brotherton Law Firm and the Brotherton Real Estate Group in Highland Village. In addition, he is an avid golfer, an author and, among many other attributes, is a proud member of the Abenaki Nation of Missisquoi in Vermont and was elected to the tribal council in October 2016.
His grandmother, Nellie Boss (Bourgeois) Lamphere, was born in Québec and was a member of the Abenaki. As an active Native American, Brotherton worked to resolve the Dakota Access protest, and traveled throughout the Standing Rock reservation to meet with tribal leadership, organizations, and members. In addition, he is currently representing the tribe as a council member in the Vermont Yankee nuclear power plant sale and decommissioning. Mr. Brotherton is licensed in North Dakota as well as Texas, and in the summer of 2016, he became an adopted member of the Spirit Lake Sioux Nation in North Dakota, and was given the Sioux name of Tasunka Masa, which translates as Iron Horse. He is a proud graduate of the University of North Dakota and a Fighting Sioux forever.
Before becoming a lawyer, Brotherton worked as a railroad brakeman and conductor for Burlington Northern Railroad in North Dakota and throughout the Midwest. His eclectic background spurs his law firm's growth. In addition to his railroading, he taught environmental law for 12 years at Texas Christian University, served on his community's Planning & Zoning Commission for six years helping to guide Flower Mound's rapid growth, and has worked as a volunteer at the 14th hole at the Masters for the last 12 years. He plays at Augusta National every year, a benefit of working at the Masters each year. He successfully defended the Museum of the American Railroad when it was accused of trespassing — for 50 years, and now serves as its general counsel.
Moreover, he writes frequently on railroad issues, and his book, "Burlington Northern Adventures: Railroading in the days of the Caboose," (www.bnrailstories.com) is in its second printing and sells all over the world. Incidentally, you'll love the sound of the train when you click on the link above. His next book is about growing up in small town Atlanta.
In the video below, William talks about his Native American heritage, his travels around the world and his love of golf. For more info on this truly fascinating man: www.brothertonlaw.com.
Bob Weir is a former NYPD officer, long-time Flower Mound resident and former local newspaper editor.