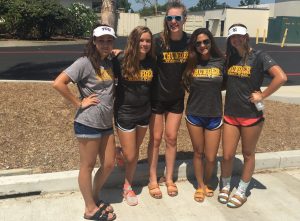 Twenty members of the men's and women's Jaguar Water Polo teams competed in the USA Water Polo National Junior Olympics this summer.
This exciting competition is the largest age group water polo tournament in the United States. Athletes and teams from around the country converged on the national stage, competing over a four-day period within their respective age category in the Los Angeles area.
The Lady Jaguar athletes that competed in California with the Thunder travel team this year included Peyton Augustine, and Natalie Seeman on the 18U team and placed 24th in the highest category; Platinum and overall.
The 16U team consisted of Jackie Bryant, Katherine Cox, Mikayla Davis, Jillian Capps and Brook Le and placed 6th in Gold and 30th overall.
The 18U Boys Black team placed 24th in the highest category; Platinum, and included the following Jags: Owen Martin, Andrew Pope, Rylan Russell, and Brett Skinner.
The 18U Boys Silver team included Alex Lockhart, Erik McCune, and Sam Skinner and placed 23rd in Bronze and 95th overall.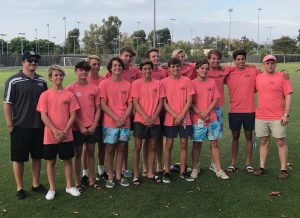 The 16U Boys team had Brady Andrews, Rylan Lantz, Kyle Skinner and Max Wade on it and placed 7th in Gold, 31st overall.
Finally, the 14U Boys team had Cody Cox and Bradley Lockhart as members and placed 14th in Bronze, 86th overall.
Rylan Russell is a graduating senior and will continue his Water Polo career at Loyola Marymount University in Los Angeles.
The rest of the Jaguar athletes will continue to play Water Polo for Thunder and for Flower Mound High School.  The High School Water Polo season begins in March.
Coaches Troy Goddard and Trevor Doyle of the Jaguar Water Polo Team were invited to lead several teams for the Thunder travel team at this competition.
According to the athletes, the opportunity to play in outdoor pools against some of the best teams in the country was challenging, exciting and fun.  They feel this helped prepare them to dominate in the upcoming Water Polo season.
Visit USAWaterPolo.org for complete details on the National Junior Olympics.