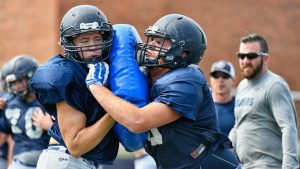 Local schools are gearing up for another year on the gridiron with what could be a very special fall for a couple of southern Denton County programs.
The Argyle Eagles reached the regional quarterfinals in 2016 where they came up just a bit short against Abilene Wylie.
Coach Todd Rodgers said the Eagles had a "very successful season last year," and said that he feels confident his team will be competitive if it focuses on its goals this season.
"Our players have committed themselves to making progress daily for this upcoming football season and they have unselfishly dedicated their personal time to train and prepare for their role on the team," Rodgers said.
The Eagles return all-state defensive back Chase Petter and added Jonathon Copeland, a move in from Liberty Christian School who was an all-state TAPPS selection from 2016.
The Eagles will get back first team all-district running back Don Williams.
"Every year has its own challenges, and every team has goals and dynamics of the individuals on the team," Rodgers said. "We have a very strong tradition of excellence and our team has dedicated themselves to win a district championship and make a strong run in the playoffs. I am looking forward to beginning the season real soon."
Down the road at Liberty Christian, the Warriors football team is coming off of an appearance in the bi-district round of the playoffs, and coach Barton Hundley said he was impressed with the growth his team experienced in 2016.
"Last season was a great season," Hundley said. "We were a young team and started out slow but came on strong at the end of the year. Lots of young players were able to gain valuable experience."
The Warriors defensive backfield will be anchored by defensive back Kason Howell, an all-state selection from 2016.
With the return of Andre Washington, an all-district selection at running back, and wide receiver Cole Croce, Liberty's running and passing game should be solid.
Defensive lineman Harlan Haire should lead the way defensively for the Warriors.
"We have a lot of players who gained varsity football experience last year," Hundley said. "A lot of players bought into what we are doing. They have had a good offseason and have also given great effort during summer conditioning."
Over in Flower Mound, the Marcus football team got off to a strong start in 2016, going 4-2 through its first six games, but after losing three of its last four the Marauders missed the playoffs by one game.
First year coach Kevin Atkinson said he is not that concerned with how things unfolded last season, but wants his team to focus on 2017.
"I have not spent a lot of time looking in the past," Atkinson said. "That is why the rear view mirror is so small and the windshield is so big."
Atkinson takes over at Marcus after serving as Head Football Coach and Athletic Director at Denton High School for the last five seasons.
Offensive Newcomer of the Year Justin Dinka returns for the Marauders at running back, and all-district selections John Brand at defensive end and Myles Tillery at nose guard/defensive tackle should anchor a defensive line that should be a strong point for the Marauders.
"The overall goal is get in the playoffs, practice on Thanksgiving and play in December," Atkinson said.
The Flower Mound football team came up just short of a playoff spot as well last season, and coach Brian Basil said he believes his experienced players will be a big factor in the team's success in 2017.
"We will have to rely on veteran leadership who experienced some big wins last season," Basil said. "Four of our six losses were very close games, so we will need to have the discipline and work ethic to be able to make the plays necessary to win those close games."
Defensively, the Jaguars return linebacker Connor Lee, who was the district Defensive MVP in 2016, as well as all-district quarterback Jackson Averitt and all-district safety Matt Greenwood.
Basil said he anticipates every team in district to be a difficult challenge, but that has not changed expectations for the Jaguars heading into the season.
"Our objective is to win a district championship," Basil said.
At Coram Deo Academy, 2016 proved to be the most successful season yet for the Lion's football team, which went 8-2 in the regular season and made the playoffs.
Coach Doug Hix said he is equally excited about 2017, but added that his team will have its hands full getting through the gauntlet that is the Lions' district schedule.
"I expect us to be very competitive this coming season," Hix said. "Our kids work hard and play hard, however, we must execute extremely well to have a chance in the toughest district in the state for TAPPS 3A, where two of our district opponents last year made the state championship game."
Hix said his team will have a lot of returning speed from last year, and with quarterback Ryan Rogers at the helm for the Lions, he feels confident in his offense.
"We have a lot of skilled talent coming back next year," Hix said. "The team will be led by the members of the 4×200 meter state championship team consisting of Caleb Johnson (second team all-district), Jackson Jarvis (second team all-district), and Brooks King (second Team all-state)."
King was also the state champion in the 100 meter dash at the state track and field meet.
The Lions will also get back Hunter Longcrier, who led TAPPS in rushing last season prior to a season-ending injury.
Junior linebacker Max McCalley should lead the way on defense for Coram Deo.
For the Guyer football team, 2016 was a wildcard heading in, when the team's starting quarterback from the previous season transferred schools.
Coach John Walsh rallied his players, however, and the Wildcats qualified for the postseason and won a playoff game.
Guyer defeated Byron Nelson in the bi-district round before losing at area to Cedar HIll.
"I thought last season, we progressively improved and were playoff ready," Walsh said. "Injuries played a part in our area round loss on top of playing a quality opponent in Cedar Hill."
The Wildcats return all-state honorable mention John Lanz at offensive tackle, while DT Arian Bhat should lead the way for Guyer defensively in 2017.
"We've had a great offseason and I think we will be similar to last year," Walsh said. "By November, we will be hard to handle."
Walsh said that Allen is the team to beat in district this season, and said to have a great run in the playoffs, it will take a few things.
"We will need to improve in our passing game this year from last and stay away from the injury bug," Walsh said.
Follow The Cross Timbers Gazette on Facebook and Twitter for updated area high school football coverage.