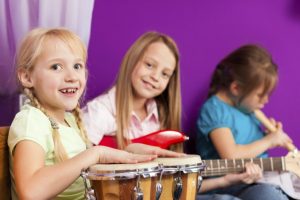 When Jennifer Freeman came to Texas this March, after her husband, Troy, was hired as the new worship pastor at First Baptist Church of Lewisville, she was ready to help expand the congregation's existing arts program; like she had in two previous locations.
Trouble was, the church didn't have such an initiative, so she started one from scratch.
Today, the Lewisville Arts Conservatory (LAC) is off and running and ready to serve people in and out of the church.
"This church is highly musical," said Freeman of Lantana, who will also teach elementary music at Liberty Christian School in Argyle.  "We have so many trained musicians; well-trained at their craft. There was an interest. I'm not sure if they knew how [to start a formal academy]. Because I had seen it happen at the last two churches, I thought this was something that could happen here as well."
Freeman first solicited a staff of approximately 15 teachers offering to teach music, dance, theatre and art in group settings, plus private lessons. There also will be a preschool music program called Little Mozarts.
"I wasn't sure we'd have enough faculty, but we had our first staff interest meeting before we launched," she said. "I asked people who I knew were degreed and had taught that were in our church. They all were interested in teaching this, so I didn't have to go look for a lot of teachers."
Next, she developed the classes, website and Facebook page. Since opening registration on May 1, the biggest interest has been in private lessons and musical theater, in which LAC students will perform "Annie" and "The Little Mermaid."
The Freemans moved from Bradenton, Fla., where their roles were nearly identical to those now in Lewisville. She grew the Bradenton academy from about 100 youth to 750 in her three years there.
"Academies like this are relatively new to churches," Freeman said. "The great thing is, it is Christian-based and under the church, so we do background checks of all the teachers, who all have degrees. And, those who already have these gifts get to improve on them."
Freeman emphasized people do not have to belong to the church, or even be a youth, to participate.
To register for any Lewisville Arts Conservatory classes, starting Aug. 28, visit: thelactx.com, or call 972-436-5753.