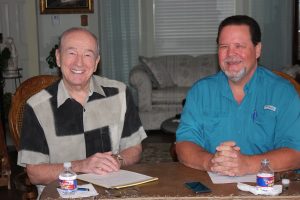 Once again, I'd like to illustrate how important it is to a society to have people who donate their time and talent to those in their local orbit. Successful towns don't just happen in a vacuum. And they don't succeed merely because residents pay their taxes and sweep their sidewalks. Although the aforementioned duties are part of the expectations we have of our neighbors, it's the myriad of other tasks that can be performed to truly make a town special. Volunteers are a significant asset to any town with the drive to achieve excellence in the place where their families are being raised. These are people who work their regular jobs, yet, have enough ambition and community spirit to give some free time where needed.
Mark Glover has a broad and deep understanding of business, real estate and construction. With more than 25 years of experience he has delivered successful results for his commercial real estate clients. The Principal of iMark Realty Advisors, which he founded in 1999, Mark helps clients to safely and profitably buy, sell, lease, develop, and invest in commercial real estate. Currently, iMark is developing Prairie Commons in Flower Mound, a sustainable commercial development with all native plants and grasses, rainwater harvesting, rain gardens, pollinator gardens, historic prairie murals, solar lighting, and many other unique features. He has an MBA from Texas Tech University, a BBA from Texas A&M, and is a licensed Real Estate Broker in Texas.
You're saying, "okay, so he has a successful business. What does he do outside of that?" Well, I'm glad you asked! Mark enjoys researching and writing about local history and his articles have appeared in local newspapers. He often makes presentations of Flower Mound history to local groups and service clubs. In addition, he currently serves on The Flower Mound Foundation Board, Summit Club, Capital Improvement Advisory Council and the Smart Growth Commission for the Town of Flower Mound. Prior to that, Mark served as Chairman of the Flower Mound Chamber, President of Flower Mound Rotary, Chairman of Denton County Economic Development Commission, Chairman of the Denton County Business Leaders Council, Vice President of North Central Texas College Foundation, and was a Citizen of the Year in Flower Mound. I get out of breath just reading that many titles!
By the way, Mark is married to the former Penny Rheudasil, who is the daughter of Flower Mound's first Mayor, Bob Rheudasil. Mark and Penny enjoy gardening, chickens, bee-keeping, and raising Labrador Retrievers which are all kept on their 2.75 acre hobby farm they call Rheudasil Farms. Aunt Faye (Mark's Aunt) lives with them and will celebrate her 105th Birthday next April. On the video, Mark talks about some of the history of Flower Mound that you probably weren't aware of. If you'd like to know more, Mark will be speaking at the Seniors in Motion (SIMS) facility, (2701 W. Windsor Drive in Flower Mound, just off of FM 2499 at Windsor), at 6:30 p.m. on Tuesday, August 22.
Bob Weir is a former NYPD officer, long-time Flower Mound resident and former local newspaper editor.