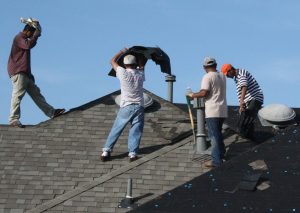 The town of Bartonville warned residents over the weekend about "storm-chasing" fraudulent contractors who are soliciting roof repair following spring hailstorms.
The storms hit in March, causing significant damage for many people in North Texas, particularly southern Denton County. Several months later, "now that contractors are getting caught up, we are receiving calls about increased door-to-door solicitation," said a Bartonville news release.
"Please be aware that fraudulent, unqualified contractors, or 'storm chasers,' come from all over the country looking for vulnerable consumers," the news release said.
Here are some things the town recommended you can do to protect yourself:
Avoid door-to-door solicitors. All solicitors must obtain a permit though the Bartonville Police Department. If a solicitor comes to your door, ask to see their permit. If they are unable to provide an identification card you should call police at 940-349-1600, extension 9 and report the activity.
Don't sign any document until you're sure you've chosen the contractor you want.
Avoid contractors willing to help "save your deductible," which is unlawful.
Ask for referrals from neighbors and others you trust.
Make sure the company actually exists by looking them up on a third-party directory, such as a printed telephone book or business association directory. The number provided by the contractor may just be for show, and scam artists may even set up websites with false information about their operation.
Check the reputation of the contractors by looking at service-referral websites such as the Dallas-area Better Business Bureau (free) or Angie's List (free information and contractor listings but a paid subscription is required to view contractor ratings and reviews).
Look for a local street address, not a post office box.
Check how long the company has been in business and look for memberships in local and national trade associations.
If a subcontractor identifies as being with a large company, call the contracting company to make sure the sub is being truthful.
Ask all contractors to confirm they have proof of general liability insurance and workers-compensation coverage. Once you choose a contractor, ask to see proof.
Ask contractors you're considering for references to other jobs they did 12 to 24 months ago so you can determine whether the work has held up.
Get three estimates in writing, which gives you an opportunity to check for consistency in the scope of work. Avoid bids that are either much higher or lower than the other two.