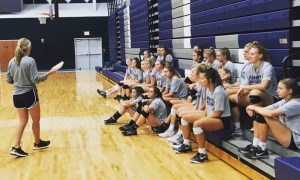 Liberty Christian volleyball coach Kim Grizzle could have something big on her hands.
With a season-opening win over Denton already in the books, the Lady Warriors showed just how good they can be this season as they gear up for what they hope will be a second-straight playoff appearance. Liberty won Tuesday's opener 27-29, 25-21, 25-22, 25-18, avenging last year's 3-1 lost to Denton.
"Our future could be pretty solid," said Grizzle, who is entering her third year as head coach. "We lost quite a few girls, so I feel like I'm trying to replenish that. But my upperclassmen have been great."
One of those upperclassmen had a huge night on Tuesday. Senior middle blocker/outside hitter Sabrina Simms poured in 23 kills, four service aces and 12 digs in carrying her team back from an early 1-0 hole. The Oklahoma commit is expected to be a six-rotation star for the Lady Warriors.
But Simms wasn't the only one dominating the stat sheet. Senior setter Taylor Scalzi finished with 38 assists and 10 digs while Kiley Goodrum had 22 digs. Avery McCrea had 20 digs.
The performance is a continuation of a transformation Grizzle saw coming during the early stages of last season. After missing the playoffs in 2015, the Lady Warriors won 18 games and returned to the postseason before losing in the first round to Tomball Lutheran Concordia.
The thought of making a deeper playoff run this year is not out of the question given the amount of talent they have back. Returning alongside Simms and Scalzi is 6-foot, 5-inch junior middle blocker Bailey Lewis. Lewis moved from Sanger as a sophomore and continues to give Liberty much-needed height up front. There is also the addition of middle blocker Ella Marr, who transferred from Coram Deo Academy.
Marr has been injured but is expected to join the team in the coming weeks.
Grizzle also pointed to junior right-side hitter Kaleigh Couch and freshman defensive specialist, Parker Ford, who only add to a growing list of up-and-coming stars.
"We only have two seniors on the roster, and we lost our libero to an area school. So we came into the season a little weak on defense," Grizzle said. "But our upperclassmen have done so much in terms of the intensity that they've shown on the court and the support they've given these younger girls. Sabrina's serve-receive has been spot on and her defense has been tremendous. Taylor is one of those girls who works hard no matter what and never quits."
Liberty will be in tournament action this weekend before traveling to Krum next Tuesday. The Lady Warriors will then travel to Glen Rose for another tournament starting Aug. 18.