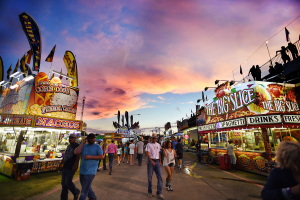 The North Texas Fair and Rodeo, which begins next week, will feature a "blockbuster" lineup of concerts and major attractions.
The 89th annual Fair and Rodeo, which will run from Aug. 18-26 in Denton, will keck off with the Josh Abbott Band in concert, the big name concerts continue with Travis Tritt on Aug. 19, Cody Johnson on Aug. 24, Ryan Bingham on Aug. 25 and Tracy Byrd on Aug. 26. Other nationally-known artists include La Energia Nortena, Jake Hooker & The Outsiders, Austin Allsup, and Sam Riggs.
"We strive to be on the cutting edge of the very best and most exciting country music each year," said Glenn Carlton, executive director of the NTFR. "We make it our goal each year to take our event to new heights with nine days and nights of entertainment, professional and youth rodeos, livestock exhibitions, a premier mid-way and more."
The NTFR is also is adding Swifty Swine Swimming and Racing Pigs, as well as the Paul Bunyan Lumberjack Show to the excitement.
This year's event is expected to draw more than 160,000 people.
The North Texas Fair Association contributes around $500,000 each year to area youth in various programs, according to a fair news release. According to the Center of Economic Development and the University of North Texas, the North Texas Fair and Rodeo and it facilities have a $7,000,000 economic impact on Denton County and an approximate $4,000,000 impact on the City of Denton each year.
Click here for more information.