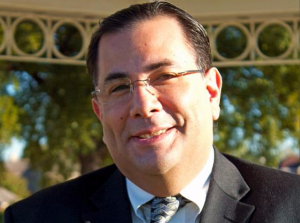 Dan Leal, the longtime executive director of the Children's Advocacy Center for Denton County (CACDC) is stepping down from his post.
CACDC Board Chairman, Brian Hayduk, announced this week "with a mix of sadness and extreme gratitude" that Leal is departing the position, and his last day will be Aug. 25, according to the center's website.
Leal said Friday that he is leaving "completely for family reasons." He and his wife are moving to be closer to family in central and south Texas.
"It's extremely difficult to leave such a wonderful cause and such wonderful people," Leal said. " If it was solely about me, I would stay."
Leal has led the center since 2002, and "our children are safer and the community more educated thanks to Dan and his team," Hayduk's letter said.
Hayduk's letter listed some of the CACDC's accomplishments under Leal's leadership, including:
Expanded capacity of CACDC to serve abused children with the completion of a Capital Campaign to build a 14,070 sq. ft. facility in Lewisville and the addition of an office in Denton,
CACDC selected inaugural non-profit of the year by the Chambers of Commerce in Southern Denton County. CACDC received numerous other local and state awards and recognitions,
Agency increased from 7 full-time staff and $458,000 annual budget to 22 full-time staff, 7 part-time staff and $2,200,000 budget.
A 90 percent conviction rate of adult offenders by CACDC investigative team.
Worked with Jenna Quinn and State Rep. Tan Parker on passing of Jenna's Law, which served as the catalyst for Children's Advocacy Centers in Texas to add education to their service delivery.
"Dan leaves the Center in an incredibly strong position, both operationally and financially," Hayduk's letter said.
Leal is leaving to be the executive director of Seedling Foundation, a nonprofit in Austin that provides mentoring for children of incarcerated parents.
"They've been dealt a tough lot with their parents being taken from their life," Leal said. "Seedling gives them inspiration so they know they can have a different life."
The search for a new executive director has begun and will be completed in the next few months, Hayduk's letter said. An interim director will be named before Leal's last day.
Leal encouraged residents to remain involved or get involved with the CACDC.
"It is a tremendous, reputable and outcome-based service for the bravest children in the community," Leal said.