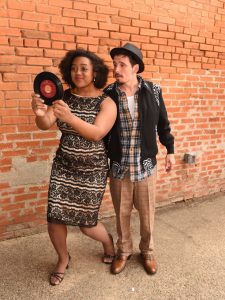 A trip to the underground dance clubs of 1950s Memphis, Tennessee is closer than you may think.
The Greater Lewisville Community Theatre is currently performing the Tony Award winner for Best Musical, Memphis, a "high energy musical (that) bursts off the stage with explosive dancing and irresistible songs," according to a GLCT news release.
Memphis is a fictional story of DJ Huey Calhoun, a local white boy with a passion for R&B music, and Felicia Farrell, an up-and-coming black singer, according to the news release.
"As their careers rise, the relationship is challenged by personal ambition and the pressures of an outside world unable to accept their love," the news release said.
The show runs through July 23 with performances Fridays and Saturdays at 8 p.m. and Sundays at 3 p.m. at 160 W. Main St. in Old Town Lewisville. Tickets are $25 for adults and $22 for people 65 and over or 18 and under. For more information, visit the GLCT website.