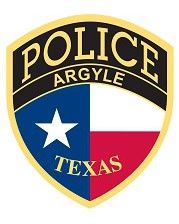 The following is a summary of incident reports recently made to the Argyle Police Department as compiled by the staff of The CTG:
At 3 p.m. on June 2, the first of several calls came in reporting the rail crossing guard arms were going up and down and the stoplight on Crawford Rd. at Hwy 377 had been stuck for more than 30-minutes. A call was placed to Union Pacific.
On June 2 at 3:30 p.m. a two-car accident in the 900 block of Hwy 377 was reported. Involved were a silver car and a Dodge Caravan emergency transportation van with "Ride and Safe" written on its side. The Argyle Fire Department vehicle was responding, but was delayed by a train. Only minor injuries were reported.
An emergency 911 call was received at 3:54 p.m. on June 2, reporting a house fire at 326 Old Justin Rd. The caller and their sister were the only occupants and had evacuated the house to the carport area. Denton FD, Roanoke FD and Flower Mound FD sent three engines and a medical vehicle. Flames were coming from a bedroom window and the house was filled with smoke. Response time to the site was 7:10 minutes.
On June 2 at 6:51 p.m., a disabled resident of a home in the 900 block of E. Harpole Rd. called to report a huge skunk was in the backyard trying to eat the pool cover and would need to be shot. She then reported a man had been successful chasing the skunk from the yard.
On June 7 at 11:48 a.m., a complaint was received from a male saying he and his wife are going through a divorce and that she'd mailed him his belongings, which were all ruined. He was advised to file charges against her.
A call reporting three teenage girls trying to climb up onto the roof of Hilltop Elementary School was logged in at 8:15 p.m. on June 7.
On June 9 at 12:16 p.m., a query regarding a possible ordinance violation was received. The caller said she wanted to file a report of someone flying a drone over her house and she thought it was an HOA representative: "who's a lunatic," looking for rules violations. She wanted the drone shot down but was advised she couldn't discharge a firearm. She was also told there are rules regarding drones flying over private property.
Two red cows were reported loose at 8 p.m. on June 9 at the Hearth Terrace/Harrison Ln. intersection. The owner was identified, but was out-of-town in Alabama. He called for help to fix the fence which was completely down. A neighbor showed up, as did one of the owner's helpers and they fixed the fence. The cows were contained. This wasn't the first time they had escaped.
On June 10 at 12:30 a.m., a white male was reported walking southbound in the median of I-35W near 79MM. When officer arrived, the subject said he was lost and was taken to the Paradise and his ride came to pick him up.
At 4:40 a.m. on June 10, a caller reported what was believed to be a rollover accident with a red car in the median of I-35W near the 79 mile marker. The other car was a white Honda four-door. Both vehicles had major damage.
A welfare concern call was received on June 10 at 9:18 a.m. about a white female in her 40s hunched over and appearing to be having an "episode' at the intersection of Hwy 377 and Frenchtown Rd. Another caller said the woman was observed walking into the Auto Care Center. Ultimately, she was given a courtesy escort by an officer to her destination.
On June 14 at 11 a.m., a follow-up call regarding a drone flying over private property was received. The woman caller said her husband was talking with a white male, balding and wearing a red shirt sitting in a car in the cul-de-sac on Woods Dr. He told the husband that he's a realtor, but they believed he was lying and she was concerned that he was from the HOA. The man did have an FAA remote pilot license.