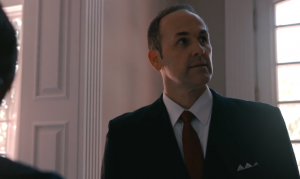 An independent Dallas film group is set for the premiere of a new short film starring a Flower Mound actor.
David Pike, a Flower Mound resident of 18 years, plays lead character Nick Draper in The Jar, a drama inspired by a true story, according to the Dallas Film Crew. The group is hosting its second annual film premiere on July 15 at the Texas Theater in Dallas.
The Jar is a short film that tells the story of a man who returns to his childhood home and ends up confronting the horror responsible for his estrangement from his parents.
"I love the journey from childhood all the way up to present day … but what drew me in was the ending," Pike says in a video posted on The Jar's Facebook page. "The ending sold me … how much he rights the wrong."
Pike has performed in theater productions and also had a small role in the major motion picture Olympus Has Fallen.
The film premiere, which Dallas Film Crew calls its biggest fundraiser, begins with a red carpet walk at 2 p.m. and the films start at 3 p.m. For more information, visit the film group's website.