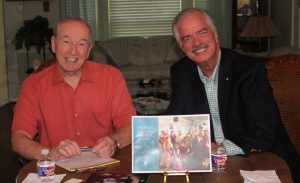 Highland Village resident Jack Wyman has enjoyed a successful career as a preacher, pastor, community leader and politician, also serving as the senior minister of four churches in New England and Texas. Wyman served for a decade as a public policy lobbyist and as executive director of a statewide Christian political action group representing 230 churches and 4,000 families in Maine. He has served on the local school board, two terms as a state lawmaker, and has been a nominee for the U.S. Senate and a candidate for Governor of Maine. He has been a political consultant, educator, author, and presidential historian.
In addition to preaching in over 300 churches throughout New England and Atlantic Canada, Mr. Wyman has spoken before many civic organizations and service clubs over the past 30 years. He has participated in numerous television and radio interviews, press conferences, panel discussions and public debates. He has been a featured speaker at conventions, conferences, colleges and universities, including Boston College Law School and Columbia University Law School, where he presented his views on contemporary social issues and the doctrine of the Separation of Church and State.
In addition, he has conducted dozens of seminars and workshops. Joining Prison Fellowship in 1995, Wyman served as the Area Director for Connecticut and Rhode Island, New England Director and as the Northeast Regional Director. In December, 2002 Wyman was appointed Southwest Regional Director for Ministry Relations, where he represented the ministry to donors and potential donors in Texas, Oklahoma, Arkansas and New Mexico. Prison Fellowship, founded by Charles Colson, is the world's largest prison ministry and is active in all 50 states and more than 100 countries.
From 2005 to 2008, Wyman served as Director of Development at Liberty Christian School in Argyle, Texas. A private, non-denominational Christian School, Liberty Christian is one of the highest rated Christian schools in the state. Wyman has also taught American government at North Central Texas College in Corinth. He is a member of the World Affairs Council of Dallas-Fort Worth. In 2013, Wyman became Director of Advancement for Haggai Institute (HI). Founded in 1969 by Dr. John Edmund Haggai, Haggai Institute is an international Christian ministry that recruits, trains and equips respected leaders from around the world, and all walks of life, to be able to present the Gospel to their own countries and cultures. HI has more than 103,000 alumni in 188 nations. In the video below, Mr. Wyman talks about his role at Haggai and his commitment to share the Gospel in areas of the world where it has been silenced. Jack and his wife Elisabeth have three daughters and five grandchildren.
Bob Weir is a former NYPD officer, long-time Flower Mound resident and former local newspaper editor.