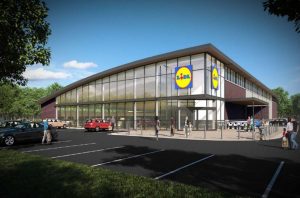 The German-based grocery chain, Lidl, is betting it will be successful serving residents of Flower Mound, Highland Village and Lewisville at its proposed new location at the southwestern intersection of FM 407 and Stone Hill Farms Parkway.
Flower Mound Planning and Zoning Commissioners, on Monday, unanimously approved recommending the new facility for Town Council consideration. There's been a dearth of shopping options in the area following the closing of Kroger (previously Minyards) on FM 407.
"This company rolls-out multiple stores in areas," said Commissioner David Johnson, following the meeting. "They also have a Grand Prairie location planned; there are 12 in North Carolina."
According to its website, the German Lidl company stocks 90-percent of its shelves with its own private-label products and is in more than 25 countries worldwide since it started in 1973 in Ludwigshafen, Germany.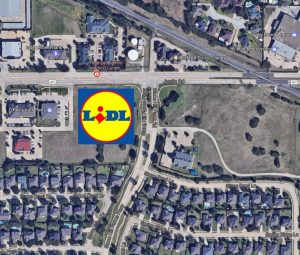 The Flower Mound store will be a 35,700-square-foot, one-story building that puts forward the German tradition of "walkable" shopping for nearby residents; which ended up being a major "hitch in the get-along" for Commissioner Heth Kendrick. He pointed out that people walking north on Stone Hill Farms Parkway wouldn't have access to the store's entrance without reaching FM 407, turning west and walking in front of the store until reaching the farthest northwest corner of the property; unless pedestrians want to navigate the main driveway.
"To have the absolute farthest route you can have from a community … you're basically forcing everyone in the community to go all the way around the property to try to get to the front door versus what you're really saying is that everyone needs to walk down the middle of the drive aisle," Kendrick said. "But the elderly, the folks with children, the ladies with strollers, they're not going to do that."
In her presentation, Sarah Beth White of Kimley-Horn and Associates representing the developer, said that the company has very specific, self-defining guidelines that are unwavering regarding a facility design. [This is a German company; a country recognized for its reputation for precision and attention to details.]
After Kendrick's continued assertion that some of the site plans 168 proposed parking spaces (the town requirement is for 144-spaces) could be eliminated to accommodate a pedestrian walkway from the south or east, Commissioner Brad Ruthrauff agreed that there would need to be accommodations for a positive P&Z response.
Following a private exchange between a man sitting in the audience and White, she said that the site plan can be changed to have four or five less parking spaces to create an ADA-compliant walkway– textured concrete– for safe access from Stone Hill Farms.
With typical German efficiency, the new Lidl store is expected to open in 12-months.