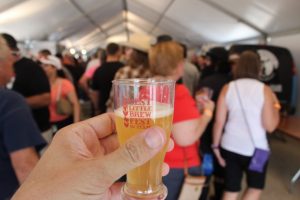 Something tasty is brewing in Lewisville.
The 5th Annual Best Little Brewfest in Texas is this Saturday, June 17, from 3 to 8 p.m. The outdoor festival celebrating craft beers is held under large tents on the streets of Mill and Charles in Old Town Lewisville.
There will be 95 breweries with their craft beers from Texas and across America– sea-to-shining (and foamy) sea. Additional adult beverages include ciders, hard lemonade and hard tea. Soft drinks and flavored water is available for those designated drivers.
Ten sponsored breweries will each have at least six beer selections; even special "one-off" beers made specifically for this event and other rare "tappings" will be located in the upper grassy area of Wayne Ferguson Plaza; a cooler location closer to the music.
The Professional Brewers Competition Award program will be held at 4 p.m. inside the Black Box Theatre of the MCL Grand Theater, 100 N. Charles Street. Honored will be the best beer in 29 categories from commercially-brewed beer in Texas.
There will be two music stages featuring local bands in Wayne Ferguson Plaza on the Main Stage and an Acoustic Stage. Six food trucks will offer items such as kettle corn, shaved ice, beef jerky and spiced nuts to keep beer-tasters thirsty.
One-hundred percent of the fundraiser's profits support Cloud 9 Charities that distributes the funds to local non-profit service-providers who help needy women, children and families.
The law allows 12 samples at 2-ounces each, but additional tasting cards will be available for $5 which gives you 12 more samples.
VIP festival-goers have access to an air-conditioned room with finger-food snacks and choice beer selections.
Tickets are available at: www.Prekindle.com/blbfit.