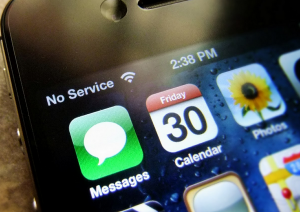 Residents and drivers have griped for years about poor cell phone reception and dropped phone calls on FM 2499 near the Home Depot and Lakeside. In the recent past, research on tower contractors and service providers has become a priority for Flower Mound staff and Town Council.
"We can't do anything without cooperation with the providers, so basically over the last few months we have been negotiating with AT&T for a Master License Agreement," said Flower Mound Town Manager Jimmy Stathatos.
He added that the agreement would allow AT&T to put in small cells (antennas) that would take stress off the main tower and provide increased connectivity for their users in a 15-hundred-foot-radius in areas experiencing problems.
He added that the town has been trying to fast-track an agreement with AT&T, because of a telecommunications bill (SB 1004) that was passed and sent to Governor Greg Abbott during the recently-concluded legislative session.
"AT&T has been great to work with. They all have," said Stathatos, but he added that if the bill becomes law, providers like AT&T would likely want more time to review what, if any, impact it might have on the proposed plan to help improve cell service in Flower Mound.
If approved, Senate Bill 1004 would lift regulations on where providers could place cell towers in a municipality. Stathatos does not believe the new law would have any big impact on their ability to ultimately address the connectivity issues in some parts of town.
Flower Mound staff is also working with Sprint and Verizon to resolve issues with dropped calls and spotty service.
Sprint has a plan to put in six cell towers to help its customers. However, that proposed solution has not been introduced in public meetings or approved by Town Council for Special Use Permits. Stathatos said Sprint's plan could be discussed as early as the June 19 council meeting.
"We're working on major solutions and I think there's light at the end of the tunnel and I think that some solutions are very imminent," he said. "Some providers might be later than others, but I think people will see some major improvement in the near future."