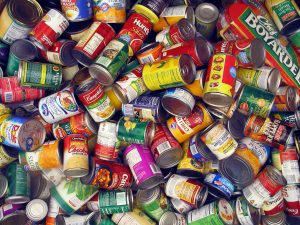 An estimated 115,480 Denton County residents, including one in four children, face hunger and food insecurity, which means they are not sure where their next meal will come from.
The Greater FM 407 Lions Club is holding a food drive to benefit the Denton Community Food Bank.
A collection box has been set up on the front porch at Bartonville Town Hall, 1941 E. Jeter Road.  Donations will be collected through Friday, June 9.
Immediate needs include canned fruit (15 ounce cans), tuna or canned chicken, and canned meals like Spaghetti O's, chili or stew.
Other suggested items include basic canned items such as:
Mixed vegetables (no corn or green beans)
Beans (all varieties, Baked, Brown, Pinto, etc)
Fruit (peaches, pears, mixed or cocktail)
Tomato & Spaghetti sauces or whole Tomatoes
Soup (all varieties to eat or cook with)
Tuna, Chicken, Ham, Spam meat products
Pasta in Meat (SpaghettiO's, etc)
Boxed or dry products such as:
Macaroni & Cheese dinners or Hamburger Helper
Potato Casseroles & other vegetable mixes
Pasta like Spaghetti, Fettuccine, etc
Dried Beans or Rice (brown or white)
Powered Milk
Other food items such as:
Breakfast Cereal or Oatmeal
Bottled Fruit Juices (Apple, Orange, Mixed)
Peanut Butter, Boxed Crackers
Cooking Oils, Coffee, Sugar and Flour