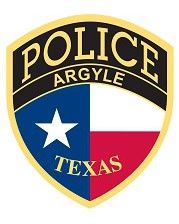 The following is a summary of incident reports recently made to the Argyle Police Department as compiled by the staff of The CTG:
On March 2, a problem with a group of bicycle riders harassing people was reported in the 300 block of Crawford Rd.
Several citations were written for drivers using handheld electronic devices while driving.
On March 10 at 10:40 p.m., two trains collided near the 800 block of Stonecrest Rd. when one train rear-ended another which had made an emergency stop. There were no injuries, but some crossings were blocked for about one hour.
On March 17 at 4:40 p.m., an emergency 911 caller wanted to alert the department that she'd received a call wanting money for her grandson in Sweden. She knew it was a scam, because her grandson was in jail.
A tricky small, black bull developed his own version of "peek-a-boo" with police on March 21. A large herd of black cows in a fenced area in the 800 block of E. Hickory Hill are witness to the bull guarding the herd outside the fence and then slipping through the gate when approached; the gate was not damaged. The bull figured out how to just squeeze through. The owner said he'll add some barbed-wire to the gate area.
Also on March 21, a resident of a familiar house in the 300 block of Redbud St. was clocked going 52-mph on a 30-mph road. When he was pulled over, he told the officer he was in a hurry to get home after another resident had called him to say someone was trying to break into the house. The officer thought the caller might be in danger and accompanied the speeder to the house. Indeed, the garage door was open, the porch door was unlocked and the house keys had been moved. But, apparently the female resident had called from a different location. The speeder was issued a citation and warned about failure to maintain financial responsibility, driving an unregistered vehicle and being unable to provide proof of insurance.
On March 25 at 3:30 p.m., three men were observed near a gray van parked in the driveway of the Argyle Public Works property on Country Club Rd. One male was wearing only shorts and shoes and was performing push-ups. The other two males were watching. Following the push-ups, they all entered the van and drove away.
Argyle police arrested three suspects involved in a March 7 attempted robbery at Johnny Joe's, 401 S Hwy 377, thanks in part to a porta-potty. In an affidavit of probable cause, Ethan Merritt Williamson, 21, of Haltom City, allegedly entered Johnny Joe's around 6:30 a.m. and, after all customers left the store, approached the clerk and placed a white envelope on the counter. The clerk asked what the envelope was and the suspect told her that he was going to rob her. In addition, he placed his hand on his hip indicating he had a gun; however, the clerk refused to give him any money. When a customer approached, the suspect fled the store running eastbound toward Argyle High School. By midnight that day, the suspect—and accomplices– had been identified, thanks to store and neighbor video, plus social media. On store video footage at 6:19 a.m. on March 7, a black four-door car pulled up to the gas pumps at Johnny Joe's and Williamson exited the vehicle and went into the store. Jonathan Hunter Curran, 22, of Corinth was a suspect in a previous burglary offense and was easily identified by an Argyle officer. In addition, the officer was able to identify Gary Wildeveld, 21, of Argyle, as a passenger in the car. A resident of a neighborhood just east of Johnny Joe's had called saying she'd given a ride to a shoeless white male. Police had recovered a black tennis shoe in the parking lot of the Journey Church on Cook Street near the scene of the attempted robbery. Based on information from friends of Wildeveld, the officer found Facebook photos of Williamson with a neck tattoo matching the witnesses' description. On March 8, the Argyle officer went to Wildeveld's residence. While there, Wildeveld confirmed that Williamson and Curran were staying on Sunrise Circle. It was the same address identified as the one to which the shoeless rider had been driven. Later that evening, the Flower Mound PD called to say that the residents on Sunrise Circle had been arrested and were in their jail. In custody were: Williamson; the owner of the black car, Elizabeth Clay; and, another resident, Thomas Nolen. During an interview on March 9, Williamson admitted he was in the car but said he'd been forced to participate and didn't steal anything. He added that after the robbery, Wildeveld was in the driver's seat, because he lives in Argyle and knew that the Boonesville Bend escape route would lead to FM 407. Williamson added that Wildeveld and Curran stopped the car and told Williamson to hide in a porta-potty. During the three hours he stayed inside the porta-potty, Williamson said he threw a black hat, long-sleeve top, gloves, the other shoe and a meth pipe down the hole. He said he didn't know why Curran and Wildeveld left him, but when he finally opened the porta-potty door he was surprised they weren't waiting. That's why he said he went next door and asked for a ride to Sunrise Circle. Later on March 9, Wildeveld and Curran were arrested and were being held in the Flower Mound jail.
A call on April 3 about a loose black calf near the 77 mile-marker of I-35W started April for the Argyle Police Department. When the officer approached the calf, it went back into its pasture.
The following day, a large bull was being held in a small pasture that was not his own. The owners were called to relocate it back to where it belongs.
On April 6, a 911-call came in at 6:15 a.m. from a citizen who said an employee at Johnny Joe's asked for the call to be made about a suspicious person. A white male, approximately 6-feet tall, wearing grey sweatpants and a blue hoodie had come in and walked around the store three times without buying anything. The cashier said that was what happened when the store was robbed last time. Frequent officer visits were requested for the remainder of the day.
On April 7 at 10:20 a.m., an officer was flagged-down by a passerby who reported two black dogs chasing after a horse in the 100 block of W. Harpole Rd. When the officer investigated, he found a grazing horse, but no dogs.
Just before midnight, multiple calls were received reporting the sound of gunshots thought to be coming from the area of Argyle Auto Care at 125 W. Frenchtown Rd. A similar report had been found to be fireworks.
A report of an adult and a herd of baby goats loose on FM 407 just west of Hwy 377 was logged on April 8 about 8:30 a.m. When the officer arrived, a pasture with goats inside the fence was observed. It was suspected that the owner had already corralled them.
That evening at about 11 p.m., a 911 call reported that a truck was towing a car with a chain on I-35W and driving at about 70 mph. Another driver had changed lanes in front of the truck and when the driver slammed on the brakes, the truck was rear-ended by its towed-car.
At 10:30 a.m. on April 9, an employee of Johnny Joe's, 401 S Hwy 377, called to report a suspicious male in a black T-shirt and grey sweatpants who entered the store on foot and had been inside for over five minutes. At one point, he got too close to the cash register and she felt uncomfortable. No offence was reported.
On April 10 at 11:25 a.m., suspicious activity was reported in the vicinity of the 200 block of Country Lakes Blvd. When two officers made contact with the young men, they stated they were making a film for a college project. After their verbal consent to look inside a backpack, a BB gun was found. The men were told they should not use it, because it looks too real and someone could get hurt.
At 3:40 p.m., a person came to the police department to report a drowning cow in the 400 block of E. FM 407. Upon investigation, no cows were drowning; they were found in the 900 block—dry.
A herd of 15 cattle were reported loose on the north side of FM 407 just east of the I-35W ramp. Steps were taken to identify the owner and contain the cattle.
On April 11 at 6:30 a.m., a 911 call came in from Whispering Trails Dr. from an upset dog owner saying that his dog was convulsing and foaming at the mouth while going on a walk. The caller thought something had bitten his dog and he was going to take the animal to a vet.
An employee at Subway called to say a purse had been found in the dumpster. A contact number for the owner was found and she said she'd gone for a run in Denton at Eureka Park. When she returned to her car, the window was broken and her purse was missing. She was waiting at the park for the Denton PD. An officer turned over the purse to Denton PD, who returned it to the owner.
On April 13 at 11:35 a.m., a 911 call came in from a driver who had a flat rear tire near the 77 mile-marker of I-35W and she was afraid to get out of the car because of the traffic. An officer arrived for traffic control while the driver was talked-through changing the tire.
Also on April 13 at 3:30 p.m. a caller was told to contact a Denton County Constable for a civil dispute over property ownership on Partridge Dr. with his ex-girlfriend. He'd called Argyle PD to advise he would be at the property the following day at 3 p.m. to force his way in and the alarm may go off.
On April 14 at 7 p.m., a homeowner on Robin Ln. called from a hospital where she was with her husband to report that a neighbor had called about juveniles trespassing at the rear of her property. The neighbor had been sending messages and photos of the activity that included a pitched tent and campfire. When the officer arrived, the juveniles were asked to leave, which they did, saying they'd speak to the owner at a later date.
At 10 p.m., a 911 call was received reporting a horse had jumped a fence and was running east on FM 407 past the Hwy 377 intersection. Several people were out trying to catch the horse and had requested the help of the Argyle Fire Department, but without lights or sirens so as not to scare the horse.
On April 15 at 2 p.m., a resident on Valley View Ct. called to report a skunk in a gutter. The caller said that its tail keeps wagging, but it's not moving very much and it's covered in flies. The caller was concerned about children in the area. Animal Control arrived on the scene to assist.
April 16 began with a call at 5:35 a.m. from a homeowner on Hickory Ridge Ct. She said someone with a T-shirt wrapped around his face rang the doorbell and started yelling and screaming random things, then ran off. A second man, also with a shirt around his face was also seen. Police and the woman's husband were unable to locate the pair.
Policing can be a dirty job sometimes. On the afternoon of April 16, an officer spotted a man taking buckets of dirt from an empty lot. The man stated that he had purchased the lot and is having a house built on it. He was told not to take things from the lot unless the builder is present since he cannot prove he owns the lot. All the dirt was accounted for.