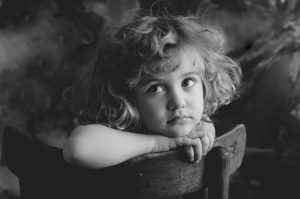 The second Sunday in May is designated as Mother's Day.
For a lot of children that means homemade or store-bought cards and gifts. It may mean flowers and a special brunch—hugs and kisses and maybe some tears of happiness.
Not every child knows hugs or kisses; maybe only tears, but not those of happiness.
Those children take a different path.
"I was a foster-care child from ages 12 to 16," said Amber Honeywell, the vice president of operations with the Lifeline Children and Family Services Organization. "I was one of a group of 16 children; my mother had 10 children and my father had six—so, I had 15 siblings. I didn't know not to steal; if I wanted something, I just took it."
She said she had been labeled as "rough" and had been focused on just surviving. Child and Protective Services (CPS) had received a call on its report a concern hotline, 1-800-252-5400. A report may also be submitted online at: www.txabusehotline.org.
CPS may go to court to remove children from their homes if it believes children have been abused or neglected– or are at risk of future abuses or neglect– and they need to be removed for their protection. If a judge decides that a child needs to be removed, the child may go into foster care if no relative or close family friend is a suitable temporary alternative.
However, CPS may remove children from their homes in an emergency, such as from a 911 call, before going to court to ensure their immediate safety. A judge must approve for children to remain in foster care for more than a day or a weekend.
If a child is removed from parental care without a court order, the court will schedule a hearing for the next working day.
"When CPS is called and, if the child is determined to be in danger, they bring three trash bags to pack the child's things and remove the child," said Honeywell. "Then, the child is entered in a database for a potential match with a fostering family listed with an agency. That agency begins calling within a few hours to try to place the child."
Within seven days, the fostering agency and its caseworkers take the child to a physician and a dentist to determine if there are any physical issues that need to be addressed in addition to a counselor to deal with any trauma.
"There's always trauma for these children," said Hillary Sullivan, a caseworker based in Tarrant County. "Even if there wasn't perceived trauma in the home, being physically removed from their familiar surroundings—even if unacceptable—is traumatic.
"There's a huge need with 30,000 Texas children in foster care and in Denton County on any day there are 800 to 2,000 kids with nowhere to go. It means renting hotel rooms and even having them sleeping on CPS floors."
The court will appoint a special attorney, known as an attorney ad litem, to represent a child's desires and/or best interest in court, because children cannot make legal decisions for themselves.
The court may also appoint a guardian ad litem for a child whose job is to represent a child's best interests. This is where CASA (Court Appointed Special Advocates) enters the child's life. Visit: www.casadenton.org
"CASA has three roles its volunteers serve in the child's service," said CASA of Denton County Executive Director Sherri Gideon. "First, we investigate the circumstances at the time of the child's removal, including physical, dental, psychological and emotional development, the school situation and other social interactions.
"Second, we monitor the child's progress against that initial baseline and make a minimum of quarterly verbal and written reports to the courts.
"Lastly, we make a final recommendation for the best result for the child, based on whether the parents have followed the recommended changes, as well as the CPS Family Service Plan requirements to maintain their parental rights."
Gideon explained that CASA works with the courts and legal system for the civil rights of the child and parents and they attempt to reunite the family; while CACDC (Children's Advocacy Center of Denton County) works with law enforcement and the criminal aspects of physical and sexual abuse with protection from and conviction of the abuser.
"In 2016, 189 CASA volunteers served as advocates for 583 children," said Gideon. "There were an additional 44 we weren't able to serve, because we lacked the additional volunteers."
"I was lucky," said Honeywell. "I had a great foster family. They had two biological kids and had just had a call to foster a drug-addicted baby and then a call came for me at age 12; they didn't even hesitate to take me."
She added parenting isn't easy on any level, but fostering can involve a major commitment.
"It can involve children who are not used to being parented and, as young as age three, are used to scavenging for food or not ever being in a clean home," she said. "They don't know how to handle being cared for or being able to depend on someone."
Sullivan pointed out that: "It's a horrible cycle that can be broken. This is a huge world and it can be confusing for people who haven't been involved with it for some time."
Although fostering or adopting a child may not fit everyone's ability of skill set, there are many ways to support the children and the agencies and organizations that serve them.
CASA of Denton County is marking its 25th Anniversary with a special fundraiser, The Power of 25 that began on April 4. The goal is raising $2,500 in the following 25-weeks via $25 gifts.
The 2017 Tri-It for CASA Triathlon on June 11 is now in its sixth year and quickly becoming a CASA tradition. This is an official USA Triathlon event managed by PlayTri for a fun, organized event that will be enjoyed by all racers, new and experienced. The triathlon includes a 500-meter swim, 11-mile bike and 5k run and may be completed individually or by relay team. Held at the Lone Star Toyota of Lewisville Railroad Park, athletes can register through the PlayTri website: https://runsignup.com/Race/TX/Lewisville/TriItforCasa
"We realize it's a huge commitment to foster a child, but people can get involved on some level," said Honeywell.
How You Can Help: 
Pray – foster and adoptive parents need the church to lift them up in prayer, seeking the Lord on their behalf. Many families need the Lord's protection as they are under spiritual attack and dealing with a host of emotional, physical and mental challenges.
First-night kits — imagine how a traumatized child feels being placed in an unfamiliar home; the smells, noises, and general environment may seem strange and uncomfortable. First-night kits give foster families a tool to calm a child's fears.  These kits should be organized by age and gender, filled with items like a toothbrush & toothpaste, a comb or brush, underwear, a stuffed animal, a bedtime story book, etc.
Become a respite family — give foster and adoptive families a much-needed break by providing temporary care for their kids, which may involve overnight care. Being a respite provider may require some paperwork and additional training.
Donate – Children in foster care generally have little to call their own, and remain in need of clothing, school supplies, and more. Donations of money or specific items would be much appreciated. Alternatively, organizing a fundraiser or donation drive to benefit children in foster care would be so helpful as well!
Provide care packages throughout the year — kids in foster care need all sorts of things you or I take for granted — like clothing, school supplies, a backpack, sports equipment, luggage, etc.
Volunteer to tutor — offer to help with basic math, reading, writing, etc.
Sponsor a child to summer camp — attending a Christian camp can be life-changing for any child, but few kids in foster care have this opportunity.
Become a mentor to older youth — spend time with them and invest in their lives. For example, you might offer them a job where they can learn new skills and prepare for life as an adult.
Become a foster or adoptive parent — kids need to experience stable, loving and healthy families. There's a big need for families who are willing to open up their homes to sibling groups (rather than split them up), kids with special needs or teenagers
Help recruit and refer parents interested in becoming a foster family.