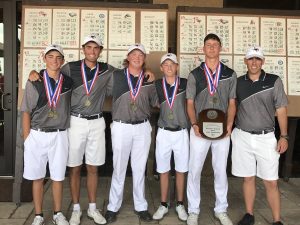 For the sixth consecutive year, the Argyle boys golf team is headed to the state tournament.
The Eagles followed-up a District Championship with a third-place finish as a team at Region and will now try to bring home some hardware from the State Tournament in Marble Falls on May 22 and 23.
Argyle coach Brady Bell said the district meet could not have gone much better for the boy's team.
"We played really well at the district meet," Bell said. "Both teams shot their lowest rounds of the year and then several of our players shot their [individual] lowest rounds of the year. We placed first and second and advanced both teams to the Regional Tournament and we had seven of our players make the All-District team."
Argyle shot a two-day total of 594 to win its District Championship, while Logan Diomede won an individual tournament championship; finishing the competition with a score of 73-74 for the Eagles.
"Logan played two very solid rounds of golf, finishing the tournament three over par," Bell said. "Having a sophomore win the District Tournament is always exciting."
Diomede said that winning a district title was special for him, but the team championship felt even better.
"Winning the District Championship as a team was most important, because it qualified us for the Regional Tournament," Diomede said. "But winning the District Championship as an individual was pretty special, because it was a personal goal I had set for myself."
The Argyle boys have won the last two 4-A State Championships and their berth in the 2017 Tournament makes it their sixth straight season to reach State.
Diomede said that he and his teammates are well aware of this fact and that a triple is definitely on their minds.
"Making it to State and winning is always a goal for our team," Diomede said. "Since we have won it the last two years back to back, we are looking forward to the opportunity to make it a three-peat this year."
Argyle finished three points behind Pleasant Grove at the Regional Tournament with a two-day point total of 614, and Parker Love was the top Eagle player in the tournament with a score of 74-76.
Bell said he is quite pleased with how his team is performing at this point and said it bodes really well as his team moves forward in the postseason.
"The District Tournament definitely gave us a boost in confidence," Bell said. "Anytime you have multiple players shoot their personal best, it really energizes them and makes them want to work harder."
Bell said that he is feeling confident about his team's chances at competing for another State title and said his players understand what's at stake and are ready work hard to achieve their goal.
"Having been to State five consecutive years– and having won back-to-back State Championships– our boys have their sites set to turn back-to-back into three-peat," Bell said. "Our entire team has been very committed to reaching those goals for our program."