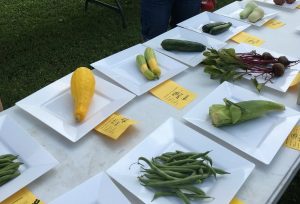 by Janet Laminack, Denton County Extension Agent-Horticulture
How's your garden growing? Hopefully you have gotten all your vegetables in the ground and growing strong. If you haven't, it's probably too late for most of our warm season vegetables. But fear not, we have an even better potential for fall vegetable gardening.  Mark your calendar now to attend the free Keep Lewisville Beautiful Garden Secrets class on Thursday, August 3, from 6-8 p.m., which is all about fall vegetable gardening. More information is available on the Master Gardener website www.dcmga.com.
It's not too late to still put in some edibles though. Herbs add fragrance, texture and attract pollinators to your landscape.  And, you can use them in cooking as a healthy way to enhance flavor without adding extra salt or butter. Many herbs do fantastic here but cost a lot in the grocery store, so it really does pay to grow your own such as basil and rosemary. Refer to the Master Gardener website to find information on how to grow herbs and use them in recipes (or give us a call and we can send you the information.)
Do you have a young one interested in gardening? There is still time to participate in the Children's Garden at Fair Oaks in Denton. Parents and children learn and garden together on Thursday mornings from 10-11 a.m. through June 8. It's free and no registration is required, contact us for more information.
And no matter if you are growing edibles or flowers, we encourage all residents of Denton County to participate in the Denton County Fruit, Vegetable, Herb and Flower Show on Saturday morning, June 10. There is a youth and an adult division and entry is free. There are also ribbons and cash prizes for the best in show! This is held at the Denton County Historical Park at Carroll and Mulberry in Denton, in the midst of the Denton Community Market. Fruits and vegetables are judged on taste, so you may leave with less produce than you bring. More information and complete rules are available on our website or by giving us a call or email.
Did you know that many of our Master Gardener meetings are free and open to the public? Come join us some time to learn more about horticultural topics. On Monday, May 22, from 11:30 a.m. to 1 p.m., the Gardenscapers will be having a class on "Arranging Cut Flowers from Your Garden," held at the Joseph A. Carroll building at 401 W. Hickory St in Denton. Also at the Carroll building, the Master Gardener monthly meetings have educational programs beginning around 10 a.m.  June 14 will be about succulents and July 12 will be about using native plants. The schedule is updated on our webpage.
And the last educational opportunity I'll mention for now is the "Design Your Yard with Earth-Kind Landscaping" class. This popular class helps you through a thoughtful design process of your landscape, registration is required and there is a fee. The class will be held Tuesday evenings from September 5 through October 10, so save the dates for this course now.
For more information on any of these classes or gardening and landscape questions, please contact us at www.dcmga.com, 940.349.2892 or at [email protected].