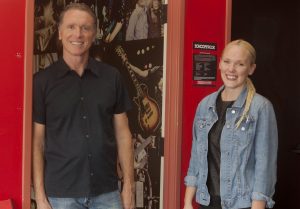 Even with the explosive growth of technology in the past 25 years, there's such a shortage of people with computer coding skills in the United States, many companies must hire them from abroad.
Dean Tarpley hopes to change that equation through a franchise called The Coder School, slated to open in late May next door to his School of Rock location on Long Prairie Road in Flower Mound. It will focus on teaching youth, ages eight-to 18-years, how computer programming can be fun, creative and ultimately lead to a career.
"They're projecting a 1.5-million shortage of programmers by the year 2020," said Tarpley, who opened the first DFW location of The Coder School in February in Frisco next to one of the 27 School of Rock franchises he owns nationwide.
"Unlike music and art, where there's not necessarily a demand for more musicians and artists, there's literally a demand for more programmers." he said. "Your son or daughter might not be interested in being an artist or musician, but everyone can code like a rock star.
"A child could come and learn how to program, graduate high school and, if they're a good programmer, they could get a six-figure job without going to college."
It's no wonder then that The Coder's School's slogan is "Learn to Code. Change the World."
Whether wanting to create an app, a website or video game, students will learn on projects they define, led by a Code Coach in a semi-private session. They have found this approach develops a passion for coding and learning, while building a true foundation of programming logic.
Leading the Flower Mound location will be General Manager Victoria George, who developed and taught the iOS program at Media Tech Institute in Farmers Branch.
"It instills persistence and resilience, because programming isn't nice," George said. "It works or it doesn't work. You have to keep trying, trying and trying. I tell my students: 'You're constantly learning. You're always having to do research.'"
Tarpley and George are overseeing construction on the facility that will host summer camps starting in June. Up first will be the Grand Opening slated for Saturday, June 3, from 1 to 5 p.m.
"I never imaged we'd be teaching nine-year-olds this stuff," Tarpley said. "I think it's a flaw in society sometimes that we don't believe that kids can achieve these things. When we allow it to happen, typically we're amazed at their results."