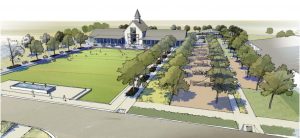 Move over Harvest, you'll soon have a country cousin.
The unanimous approval by the Northlake Town Council on April 13 for a zoning change on three tracts (Young, Gibbs and Thompson) gave the go-ahead to Hillwood Communities' proposed mixed-use, master-planned development to be known as Pecan Square.
The development will include homes and commercial spaces with a mix of lot sizes and densities, located on 1,158-acres across FM 407 from the Harvest development west of Draper (Corral City). The number of homes have yet to be finalized but could exceed 3,000.
"The developer plans to begin construction by the end of 2017," said Mayor Peter Dewing. "It's taken time, but this council worked to get this controlled, properly-staged town growth for Northlake residents. The development will be built in multiple phases, depending on market demand."
Hillwood was established in 1988 by Ross Perot, Jr., and is one of the largest private real estate developers and investors in the U.S.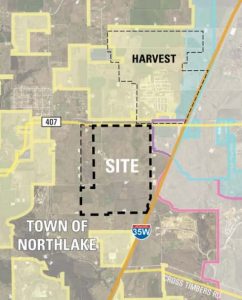 The development of the "Alliance Corridor" along I-35W from the Fort Worth Alliance Airport (the world's first industrial airport), to Alliance Town Center, the Harvest development in Argyle; and, now the Pecan Square development speak to the developer's commitment.
As with most developments, traffic concerns are a high priority.
With the addition of Pecan Square commuters to those of Harvest and Canyon Falls, the developer has already planned for road improvements, as well as a new interchange at I-35W and Cleveland Gibbs.
In addition, County Commissioner Andy Eads has supported turning FM 407 into a four-lane road from FM 1830 in Argyle to Hwy 156 in Justin.
"A new elementary school is included in the development plan, and improvements to the middle and high school, plus a sports complex, will be built," said Dewing. "The existing barn [on the property] will be kept to be turned into a clubhouse and existing Northwest ISD facilities will be added to for advanced agricultural sciences programs, among others."