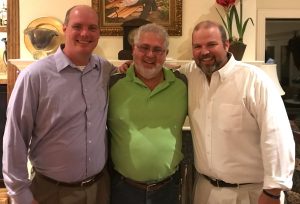 A familiar face in Flower Mound will soon occupy a spot on town council.
Planning & Zoning Chairman Claudio Forest squashed Itamar Gelbman's quest for a second term in Place 5 with nearly 62 percent of the vote (3,530 to 2,173).
Place 5 is the first council seat with a three-year term as the transition from two- to three-year terms begins to take place.
The self-effacing Forest has a long history of involvement in town. For the past five years, he has served as president of the Summit Club, the oldest civic organization in Flower Mound.
A 17-year resident, Claudio and his wife, Carol, have two daughters, both of whom graduated from Flower Mound High and became homeowners in town after graduating college.
"I am humbled that people supported me, that they believe enough in me and I am going to do the best job that I can for them and represent everybody," said Forest. "I've been here a long time, I've been volunteering in a lot of ways and this is just a culmination of my service to this town and I hope I make everybody proud."
Place 1 Councilman Jason Webb defeated Cathy Strathmann (3,218 to 2,236) for a second straight year. Webb took 56.24% of the vote, Strathmann had 39.08%, and Prabu Jaganatan, who dropped out of the race on March 8, managed to collect 268 votes (4.68%).
Last year Webb prevailed in a Special Election for the one-year unexpired term in Place 1.
"I really am thankful to the people of Flower Mound for letting me have this honor to be their representative. I look forward to the next two years serving our community," said Webb.
Place 3 council member Kevin Bryant earned a second term with 60.03% of the vote over former Planning & Zoning Commissioner Sandeep Sharma.
"Sandeep ran a good race and is a good person and has a bright future in Flower Mound," said Bryant. "I want to thank to voters of Flower Mound that came out in huge numbers and I appreciate their support and their confirmation that we are doing a good things for Flower Mound and that they agree they want good strong positive representation in their town council members."
Voter turnout this year in Flower Mound was around 12 percent of registered voters, compared to 9.5 percent last year.
"It was great seeing so many people come out," said Webb. "We had a higher turnout this year which is wonderful."