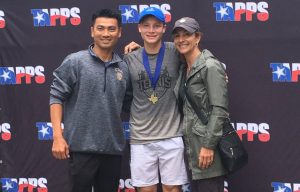 Aaron Mackie accomplished something very special earlier this month when he won a TAPPS 4A state tennis championship.
The Coram Deo Flower Mound senior won his second straight state title in boys singles by defeating FW Lake Country Christian's Robert Clark in straight sets by scores of 6-0, 6-0.
Mackie defeated Lake Country Christian's Evan Schoeplein to reach the title match, and said he is quite proud of his performance at the state tournament.
"To represent a smaller school like Coram Deo and win a state championship is an honor," Mackie said. "It feels like all of my hard work that I have put into this sport has paid off."
Mackie became the first male tennis player from Coram Deo Academy to win a state tennis championship last year, but said that this one is a little more special.
"This year there were three other (Coram Deo) students who qualified for state," Mackie said. "Last year, I was the only qualifier who went to state. It was special to be supported by teammates when I won this year with them there to represent the school. Last year it was a bit lonely to tell the truth. Just me and the coach and my mom."
This was not, however, Coram Deo's first state championship in the sport of tennis, but at least Mackie was able to keep it in the family.
"My sister Natalie was the first state championship winner in tennis for Coram Deo when she won singles her sophomore year and doubles her senior year," Mackie said.
The Coram Deo senior competes on two tennis teams, his USTA program and the Coram Deo tennis team, and is a nationally ranked tennis player and three-star recruit.
He is headed to New York University in the fall where he will compete on the tennis team.
Coram Deo tennis coach Leng Ea said what Mackie has contributed to the Lions tennis program cannot be underestimated and said he will certainly be missed.
"Aaron is a model for student athletes at Coram Deo because he is well-disciplined," Ea said. "He has been able take advantage of our university model to train both academically and athletically. Aaron is the first Coram Deo Athlete to be accepted to NYU for Academics and with a spot on their tennis team.
"I am so happy for Aaron and the success that he's had. He is a gentlemen on and off the court, and I'm glad that he wants to continue improving his game at the university level. I know that he will have a great impact on his new team because he has been doing it here at Coram Deo."
Mackie will continue to play USTA sanctioned tournaments and train at Coram Deo academy
throughout the summer.