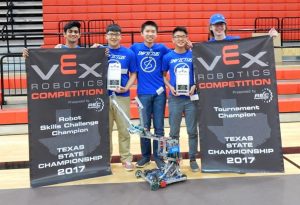 'Invictus 365,' a robotics team from Flower Mound, is going to the VEX World High School Robotics Championship in Louisville, KY April 19-22 to compete with 566 teams on the international stage.
The team consists of Henry Liu, Anuj Jain, Jake Magee, Justin Chae and Kevin Choi, all from Flower Mound High School.
Their journey is a story of passionate hard work and dedication; the five students created their own independent team and went all the way to win the highly competitive North Texas State Championship and Robot Skills Champion to qualify for Worlds.
Working for hours on weekends and sacrificing numerous evenings for months, these students designed and programmed their robot, which is currently placed fourth worldwide in robot skills.