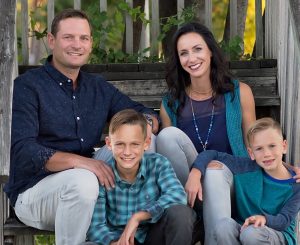 Until they contemplate all that's changed, Jason and Laurie Fraser can't believe it's been 10-years since they started Southern Comfort Mechanical A/C and Heating in an office inside their then-Lewisville home.
In that time, they bought a fleet of trucks, moved to a showroom office in Lewisville, expanded their staff, plus bought a home in Lantana to raise their sons, Austin, 11, and Andrew, 8. What hasn't changed, is that they are the same couple who grew up in Denton County and continue to help people in their home region with their heating, ventilation and air conditioning needs.
The Frasers have grown their business conservatively and organically on long-term relationships; often started when existing customers refer new ones.
"People who've tried us tend to stay with us and they recommend us to their friends," said Laurie.
Jason started as an apprentice with already-established local HVAC professional Dale Peterson, whom he met through his church contacts. After three years, Jason was ready to start his own business.
"I remember when he first got his license, my parents were like: 'this is big now that he has his license. Things are going to go okay for you guys,' " Laurie said. "And they were right. Things took off immediately."
The couple launched their fledgling business in a toolshed behind their first home; and, grew enough to need to move. They slowly built their clientele, working out of one-half of their garage. When they realized they needed something with multiple telephone lines– and space for an expanding staff– they renovated a 1962 commercially-zoned house into a functional office and showroom, then moved into it in February 2014.
One of Jason's proudest moments was purchasing his first brand-new truck in 2008, after using a small, used pick-up the first few years. Today, the company has eight trucks and 10 employees, including themselves.
Jason and Laurie both are involved in the daily business wherever their expertise is needed. He is still in the field advising his technicians and installation crews, while Laurie has expanded the administrative staff to three employees overseeing the service, marketing and finances.
"We consider ourselves employees," Laurie said. "We're not big enough to have titles. You have to know how to do everything and every job is important."
The Frasers and Southern Comfort Mechanical support their community by participating in groups and sponsoring events they are passionate about, such as the recent expansion of North Texas' non-profit pediatric clinic, Pedi-Place and Western Days. They also sponsor activities at Lantana's Adkins Elementary School– where their children attend– and other area schools such as Guyer High School and Lake Dallas High School.
Their giving doesn't stop there. In honor of their 10th anniversary, they're celebrating their customers, too, with special offers throughout April.