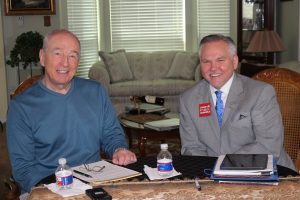 Tracy Scott Miller was elected to the Lewisville Independent School District (LISD) Board of Trustees in 2014. Miller, who is now vice-president of LISD board, is currently running for re-election to his place 7 seat in the May 6 election.
The Board of Trustees consists of seven members elected to serve for overlapping terms of three years each. Elections are conducted in May in accordance with the Texas Secretary of State Uniform Election Calendar. While candidates run for specific places, they do not represent specific geographical areas; rather, each represents Lewisville ISD at large. In May of 2017, Places 6 and 7 will be on the ballot.
I asked Mr. Miller to sit for an interview to explain to residents the need for the recent bond proposal package. Recently, the LISD school board unanimously called for an election, asking voters to approve a $737.5 million bond, an amount decided upon after several meetings over the past nine months. The ballot proposition will ask voters to vote for or against the bond, which, if passed, will fund over 30 different projects to improve the school district. Part of the plan being discussed would result in the razing of Hedrick Elementary in Lewisville.
In the video below, Mr. Miller explains what the bond money would be used for, how much it will cost the average taxpayer and several other issues related to the proposal.
Bob Weir is a former NYPD officer, long-time Flower Mound resident and former local newspaper editor.