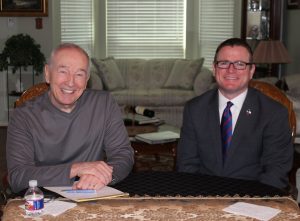 For the past 17 years, Chance Oliver has worked as a private practice attorney where his areas of practice include, criminal, real estate and civil litigation. Prior to entering private practice Mr. Oliver worked as an Assistant District Attorney with the Denton County District Attorney's Office where he prosecuted both juvenile and adult criminal cases. He has also served as a Municipal Prosecutor for the Town of Trophy Club, The Colony, Argyle, Oak Point and Ponder. In the accompanying video, Mr. Oliver tells Denton County residents why he's running for Judge of Criminal Court #4. The following info was supplied by Mr. Oliver:
"Chance has been a tireless volunteer with a variety of programs and organizations in Denton County. Since 1995, he has served as a big brother volunteer with the Big Brother/Big Sister organization. Chance has also served as a volunteer youth coach and official for a number of community and church leagues throughout Northeast Texas since 1994. Currently, he coaches baseball, football and basketball and also volunteers with the Baseball Leadership Team with Prestonwood Sports Organization, which he has done since 2005.   He also teaches 6th grade boys as a Sunday schoolteacher. Chance has also worked as a volunteer builder with Habitat for Humanity and as a volunteer with the Prison Ministry Outreach Program.
"Since 1998, Chance has also served as an election worker for numerous Republican Primary and General Elections and currently serves as the Precinct Chairman for Plano #2020, Denton County Republican Executive Committee. Prior to taking on this Precinct Chairman role he served as an assistant to the Chair since 2007.  He has also served as President of the Pachyderm Club of Denton County for 3 years and been a Vice President for another 3 years, holding an office in that club every year since 2010, except for one. He also served the Denton County Republican Party as the 2nd Vice Chair of Finance for two years, under former Chairman Dianne Edmonson.
"Chance worked his way through college and law school, in part, as a prison guard for the Texas Department of Corrections, serving in the Ellis I, Ellis II and Darrington Facilities. Chance earned his undergraduate degree from Sam Houston State University in 1992 and his Juris Doctorate from Thurgood Marshall School of Law, 1997. Chance attended the Experiencia Language School in Cuernavaca, Mexico, where he completed a bilingual studies program. Chance is licensed to practice law in the State of Texas, Arizona and in the United States District Court, Eastern District of Texas. Chance and his wife, Blanca, have four beautiful children; Angel, Micah, Max and Gabriela and are active members of Prestonwood Baptist Church."

Bob Weir is a former NYPD officer, long-time Flower Mound resident and former local newspaper editor.